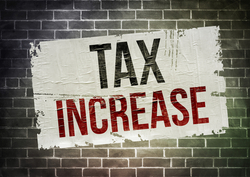 The Biden administration's tax plan is finally coming into clarity after nearly 100 days in office. Just to level set this post, his tax plan had been widely distributed during his campaign. Generally speaking, it should come as no surprise that taxes are going to go up.
Here were President Biden's campaign proposals: [i]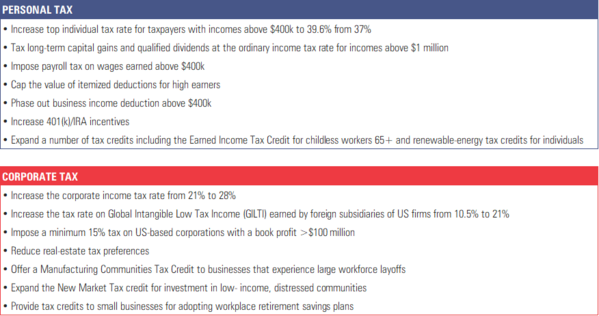 Last week, we saw the overarching tax theme for the Biden proposal: capital gains should be taxed similar to labor/wages. Various news outlets reported that the Biden Administration will propose to raise the federal capital gains tax rate to 39.6%, also the top marginal income tax rate under President Biden's campaign proposal. In addition to the 3.8% tax on net investment income that Congress established in 2009, the combined rate would be 43.4%. [ii] Put another way, capital gains tax rates should be equalized to income tax rates.
Let's be clear, the Biden administration has not rolled out the specifics of the rest of his plan and we should expect to see details on estate taxes, income taxes, corporate taxes, and various other tax deductions and credits in the coming weeks.
Higher taxes on capital gains intuitively should be bad for equity markets. However, the data simply does not match. (By no means am I rationalizing higher taxes on investments and savings.) [iii]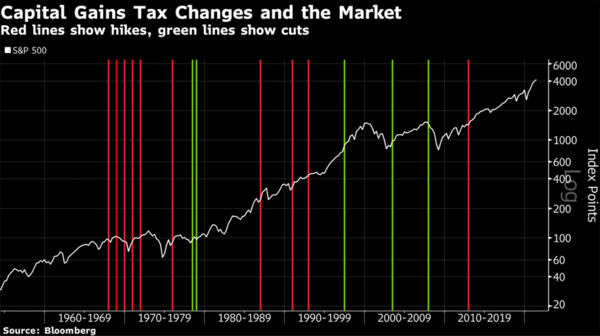 Over long periods of time, markets grind higher under both higher and lower capital gains taxes. [iv]

On average, markets have returned 4.3% when capital gains tax rates have risen. One caveat is the Biden rate will be more similar to the 1976 rate and that was not well received by investors in the short run. Like most things when investing, time horizons matter.
Biden's corporate tax proposal might be another matter altogether. While he has not made any final proposals, based upon his campaign promises, corporate earnings might take a hit in the near-term. [v]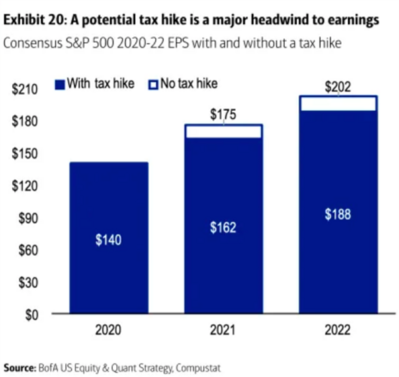 S&P 500 earnings could be impacted by 7.4% in 2021 and 7.1% in 2022, with the Technology and Health Care sectors being impacted the most. [v]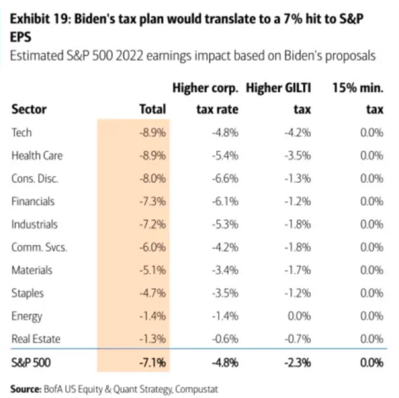 Counterintuitively, the S&P 500 posted gains when corporate tax rates have gone up. Why? [v]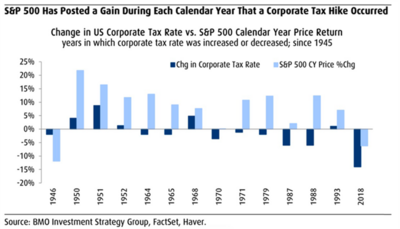 Again, time horizons matter. It is quite possible long-term investors look past the short-term impacts and hold onto a strong confidence in the American enterprise system. Corporations can—and have—found ways to profit even when targeted by the political class. It would appear from the data below that corporate profits over long periods of time are not highly correlated to tax rates. Innovation, offshoring, outsourcing, tax loopholes, and deductions likely matter more than the overall corporate tax rate. [v]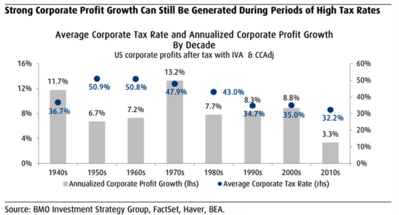 As advocates for investors, we will continue to find ways to mitigate higher capital gains taxes. Ideas like Roth conversions, moving from active fund management to passive ETFs, and using more separately managed accounts are all possibilities to consider. For some, complex insurance strategies may be the answer. Whatever way investors choose to mitigate their taxes, we know companies will work hard to continue to grow profits regardless of what they face from corporate tax rates. There are many ways to attack higher taxes.
If you have questions or comments, please let us know. You can contact us via Twitter and Facebook, or you can e-mail Tim directly. For additional information, please visit our website.
Tim Phillips, CEO, Phillips & Company
Sources:
i. https://joebiden.com/joes-vision/
ii. https://www.bloomberg.com/news/articles/2021-04-26/biden-s-1970s-era-taxes-on-rich-collide-with-gop-and-salt-rebels
iii. https://www.bloomberg.com/opinion/articles/2021-04-23/stock-market-will-get-over-biden-s-capital-gains-tax-increase
iv. https://lplresearch.com/2021/04/23/higher-capital-gains-taxes-daily-market-update/
v. https://finance.yahoo.com/news/corporate-tax-hikes-dont-spell-doom-for-the-bull-market-morning-brief-095741542.html