Until last Friday, the S&P 500 had not moved up or down more than 1% in 46 days, which is the longest it's stayed in such a tight trading range since July 2014, when we hit a 20-year record of 62 days. [i]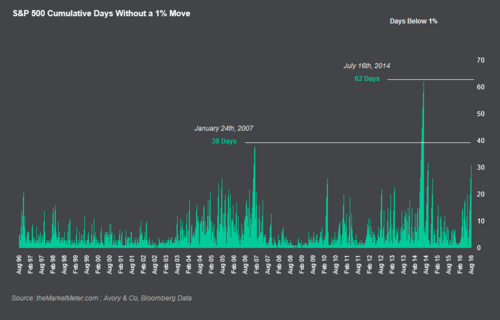 While the drop does not signify a breakdown in any one support level alone, it's likely going to be a shock to the system for many investors after getting such a rude awakening on Friday, with the major indexes all down over 2% or more. [ii]

There certainly may have been a series of events that could have broken the back of the "summer doldrums" in the equity markets.
For one, North Korea successfully tested a nuclear warhead that could pose an imminent threat to the security of the world. They have conducted five such tests in the past 10-years with varying levels of market reactions. However, it seems the global marketplace has grown accustomed to North Korea's goading.
Perhaps, this time, it was the magnitude and provocation that created a harsh reaction from investors compared to past episodes.
More than likely, Friday's severe drop was caused by a couple of recent comments from the Federal Reserve Governor's about interest rates that suggest we could see a rate hike in September. [iii] [iv]
"It appears that the fund's rate should be significantly higher than it is now," Jeffery Lacker
"My personal view, based on data that we have received to date, is that a reasonable case can be made for continuing to pursue a gradual normalization of monetary policy," Eric Rosengren
Prior to their comments, expectations for a rate increase in September were sitting low at 24%, whereas expectations now sit at 30%. [v]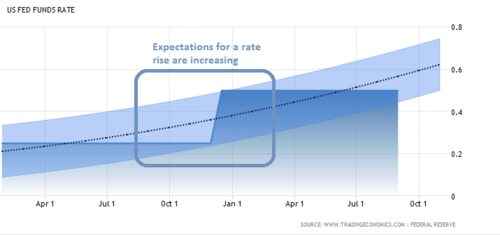 Overall, investors should expect rates to rise; although, in the wake of last week's mediocre employment report, ISM manufacturing report, and service report, one would think the Fed would be on hold in September.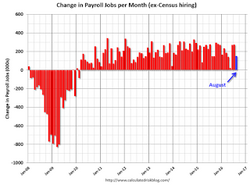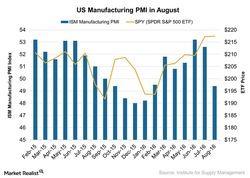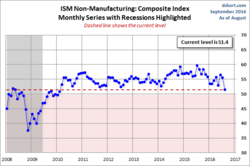 It's always disappointing when we follow a specific narrative (We Live in a Policy Driven World -click here for our past commentary on the topic) and that narrative appears to be in jeopardy.
Additionally, Friday's drop could also be equally as likely due to market participants considering a Trump Presidency, seeing how he has pulled much closer in the polls. However, Trump's anti-trade policies are widely viewed as bad for large American corporations that depend on foreign trade for over 31% of their revenue. [vi] [vii]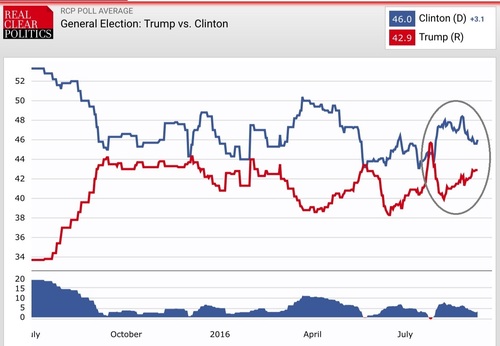 Lastly, the significant Friday drop could simply be September. It is historically the worst market performance month of the year according to Bespoke. [viii]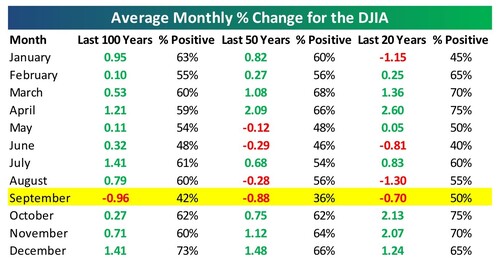 In my opinion, it's likely an "All of The Above" scenario with an earnings recession to boot (which we have written about in the past which you can find here.)
In fact, I think it's more than likely we will see a significant increase in 1% moves (volatility) as we face are these significant issues with large degrees of uncertainty.
The good news is that the underlying economy and U.S. Consumer remains strong. As long as the uncertainty does not upend the consumer, then investors should be able to look through the most recent volatility.
Today, we also pay a special tribute to those colleagues we lost fifteen years ago on 9/11; for me personally, keeping in mind those working at Fred Alger Asset Management and David Alger, whom I was visiting in the North Tower on the 93rd floor just 30 days earlier.
If you have questions or comments, please let us know as we always appreciate your feedback. You can get in touch with us via Twitter, Facebook, or you can email me directly. For additional information on this, please visit our website.
Tim Phillips, CEO – Phillips & Company
Chris Porter, Senior Investment Analyst – Phillips & Company
References:
[i] http://seekingalpha.com/article/4001299-record-days-without-1-percent-move-s-and-p-500
[ii] http://www.marketwatch.com/story/us-stock-futures-tilt-lower-with-oil-prices-fed-speakers-in-focus-2016-09-09
[iii] http://www.reuters.com/article/us-usa-fed-lacker-idUSKCN11828K
[iv] http://www.wsj.com/articles/feds-eric-rosengren-sees-reasonable-case-for-gradual-rate-increases-1473423300
[v] http://www.tradingeconomics.com/united-states/interest-rate/forecast
[vi] http://www.factset.com/websitefiles/PDFs/earningsinsight/earningsinsight_9.9.16/view
[vii] www.realclearpolitics.com
[viii] www.bespoke.com