The Economy Shifting to a Higher Gear
The recent employment report released on Friday gave us the strongest sign of the year that the US macro-economic picture is looking very strong. The US economy added 321,000 jobs in November of which 314,000 were in the private sector.[i] This is the best year for employment since 2000 based on the annual change in total nonfarm employment through November.[ii,iii]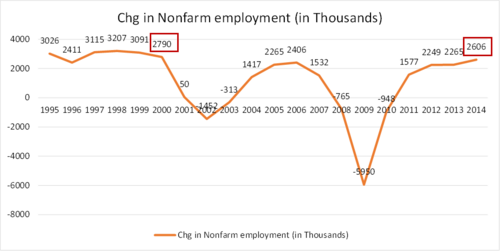 Needless to say, more jobs mean more income and that in turn can drive more consumption and confidence. While it's hard to predict the overall impact of more jobs and spending on corporate earnings, we would expect corporate earnings to reflect these positive developments in the coming quarters.
What's particularly good news is that jobs increased across all sectors, except mining and logging which had no change in November.[i] Further, there is a wide dispersion from low income service jobs to higher paying professional type jobs.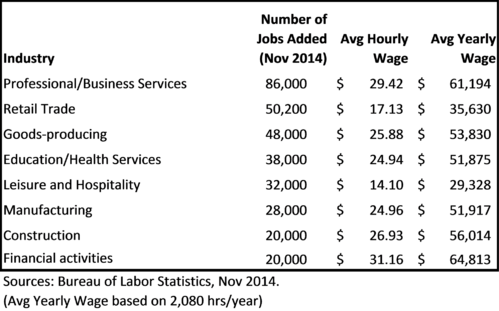 There continues to be a lack of wage growth in the economy on a midterm basis, but even wages had a nice uptick in November. Wages grew by 0.37% or about 4.5% annualized.[i] The year-over-year percent change in average hourly wages has steadily increased since 2010.[iv]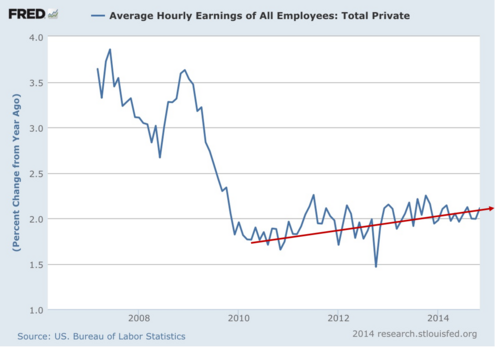 Going forward, focus areas will continue to be consumption-oriented industries and perhaps cyclicals. As far as markets being over bought, you can see a compression of small-cap PE ratios from the start of the year until now, not an expansion, and growth stocks remain below their historic PE averages.[v,vi]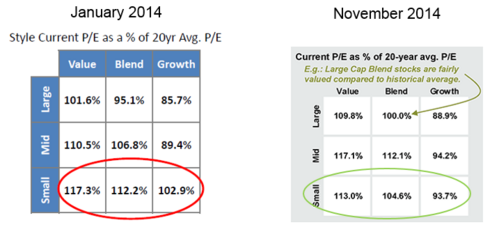 This certainly suggests companies are earning more and valuations, while elevated, may be sustained as consumers shift to a higher gear.
If you have questions or comments, please let us know as we always appreciate your feedback. You can get in touch with us via Twitter, Facebook, or you can email me directly. For additional information on this, please visit our website.
Tim Phillips, CEO – Phillips & Company
Jeff Paul, Senior Investment Analyst – Phillips & Company
References
[i] Bureau of Labor Statistics. (Dec 5, 2014). The Employment Situation – November 2014. U.S. Dept of Labor.
[ii] Federal Reserve Economic Data.
[iii] McBride, B. (Nov 28, 2014). Possible Headline for Next Friday: "Best Year for Employment since the '90s". CalculatedRisk.
[iv] Federal Reserve Economic Data.
[v] JP Morgan (Jan 2014). 1Q 2014 Guide to the Markets.
[vi] JP Morgan (Nov 2014). 4Q 2014 Guide to the Markets.