To celebrate Earth Day almost 40 years ago, Walt Kelly wrote, "We have met the enemy and he is us."  The essence of his work was to remind Americans we were all responsible for hurting the environment. [i]
Oddly enough, we had a similar reminder during last week's testimony on the Hill.  CEOs from seven of the largest U.S. banks gathered to testify in front of the House Financial Services Committee on banking deregulation.  When asked what the biggest risk to the financial system was, it would appear Michael Corbat, Citigroup Inc.'s CEO, took a page straight from Walt Kelly's playbook when he suggested the enemy of our economic engine is us.  In his own words, Corbat said the number one risk to the financial system is. . .
"Our ability to talk ourselves into the next recession." [ii]
Coming at a time when I believe we are entering a clear earnings recession (defined as two consecutive quarters of declining earnings), it's easy to believe we could slip into a real recession. [iii]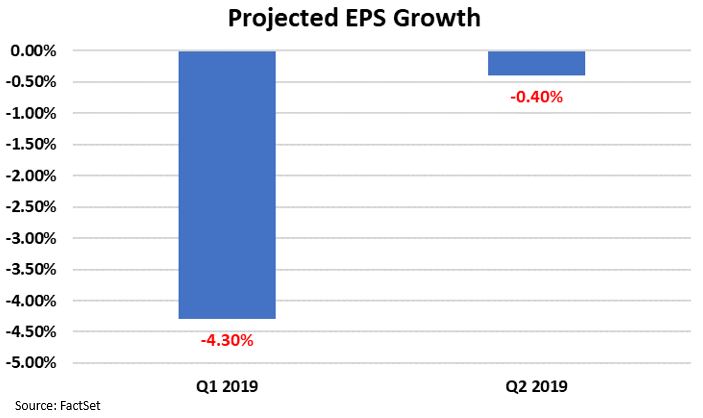 In fact, the risk of recession has increased significantly over the last year. [iv]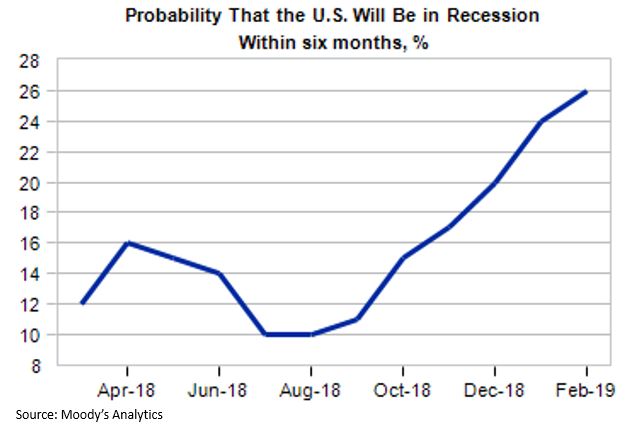 It's hard to argue that a softening housing market and a flattening yield, in addition to contracting earnings growth, isn't playing a contributing role to the increased risk of recession. [v] [vi]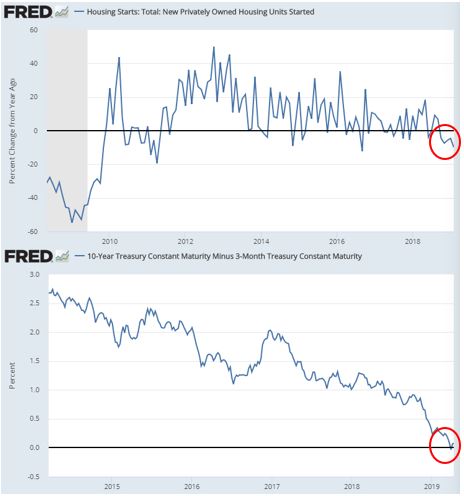 Moreover, recent polling data from the Investor's Business Daily/TechnoMetrica Institute of Policy and Politics (IBD/TIPP) Poll, a six-month outlook on how consumers feel about the economy, shows that Americans are growing more sanguine about the economy. Like all IBD/TIPP indices, readings above 50 signal optimism, while readings below 50 signal pessimism. The month of April fell into pessimistic territory at 48.8, following a 5.4 percent decrease in economic optimism.  [vii]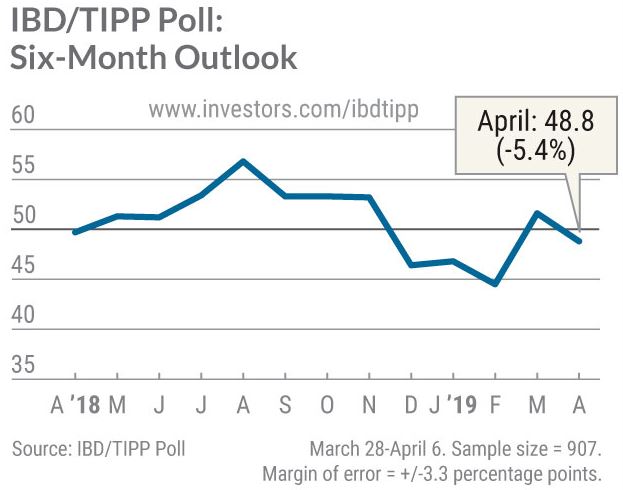 However, despite these indicators painting a bleak picture of the U.S. economy, expectations for Q1 2019 GDP growth have improved significantly.  In fact, the Federal Reserve Bank of Atlanta now estimates GDP growth of 2.3 percent, whereas, at the start of March, growth expectations barely registered above zero. [viii]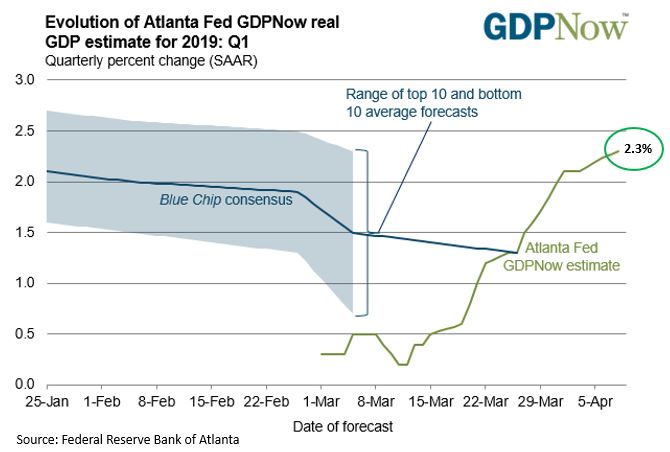 Regardless of how you interpret the above data, consumer sentiment does matter in the end.  With the Federal Reserve on hold from further rate increases, I suspect the economy is likely to reignite in the coming quarter.  Suffice to say the most significant threat to our economy does appear to be us.
If you have questions or comments, please let us know.  You can contact us via Twitter and Facebook, or you can e-mail Tim directly.  For additional information, please visit our website.
Tim Phillips, CEO, Phillips & Company
Robert Dinelli, Investment Analyst, Phillips & Company
References:
i.       https://www.retroist.com/2016/04/22/pogo-the-possum-and-the-first-earth-day/
ii.      https://www.marketwatch.com/story/this-is-the-biggest-risk-to-the-financial-system-say-ceos-of-the-largest-us-banks-2019-04-10
iii.     https://www.factset.com/hubfs/Resources%20Section/Research%20Desk/Earnings%20Insight/EarningsInsight_041219.pdf
iv.     https://www.economy.com/dismal/indicators/releases/usa_recession/United-States-Risk-of-Recession (subscription required)
v.      https://fred.stlouisfed.org/series/HOUST
vi.     https://fred.stlouisfed.org/series/T10Y3M#0
vii.    https://www.investors.com/news/economy/ibdtipp-poll-economic-optimism-index/
viii.   https://www.frbatlanta.org/cqer/research/gdpnow.aspx