The First Real Test of the Year: JOLTS and Volatility
Volatility.
I'm not referring to tremors or seismic events in the title. US and Global equity markets added some significant volatility this week in light of a weaker than expected start to the earnings season.[i]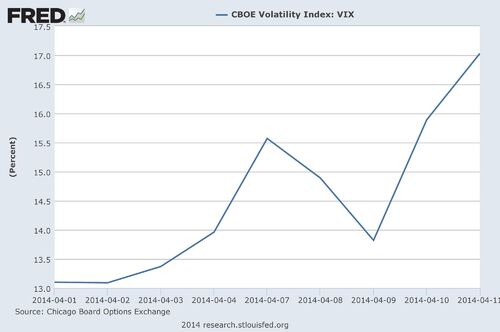 Volatility is up with only a few companies reporting earnings. Most significantly, Alcoa reported a revenue miss of $97M, but beat adjusted EPS expectations by 4 cents, and JP Morgan Chase missed adjusted EPS estimates by 18 cents.[ii] It's abundantly clear that market participants are extremely jumpy about this earnings season.
According to FactSet, analysts expect a Q1 S&P 500 earnings per share decline of 1.6% on revenue growth of 2.2%.[iii] Zacks Research estimates an even larger EPS decline of 2.6%.[iv] As shown in the graph below, this estimate has been declining since January, reflecting changing sentiments.[v]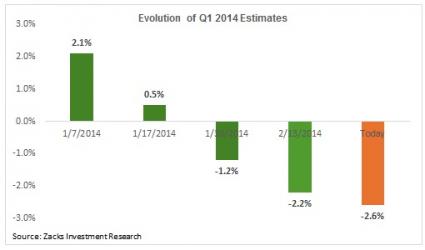 With Q1 earnings growth estimates already negative, anything short on either the earnings or revenue side will lead to continued volatility.
The bottom line on earnings season is: overreactions are to be expected early in the season.
JOLTS
Based on recent statements by our new Federal Reserve Chairwoman, Janet Yellen, we know that she is going to focus on a much different data set to drive interest rate policy than her predecessor.
"This assessment will take into account a wide range of information, including measures of labor market conditions, indicators of inflation pressures and inflation expectations, and readings on financial developments." (Fed Statement, March 2014) [vi]
In the past 5 years, Former Fed Chairman Bernanke gave guidance based upon the unemployment rate. Needless to say that data never really painted a clear picture of what's going on with jobs and employment in our economy.
Employment participation and underemployment data paint a fuller picture of our economy. The participation rate continues to decline and underemployment remains high at 12.7%.[vii, viii]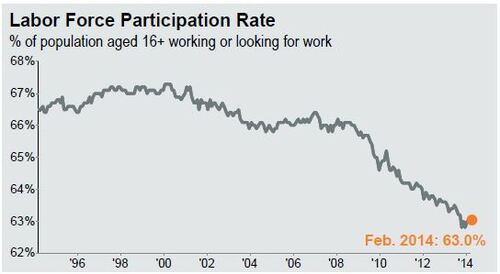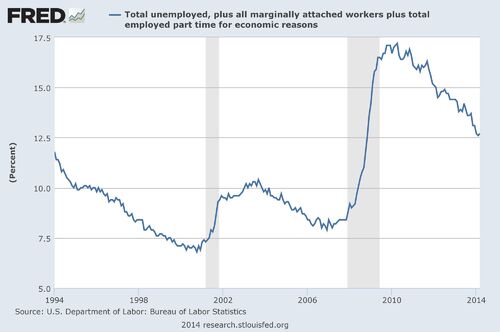 Now it appears that Janet Yellen might be looking at another set of data to complete her picture and help her fulfill the Fed mandate of full employment. The Job Openings and Labor Turnover Survey (JOLTS) is a data set that measures the number of job openings and the rotation of jobs on a monthly basis. You can see from the charts below that the number of openings is increasing and turnover is dropping.[xi]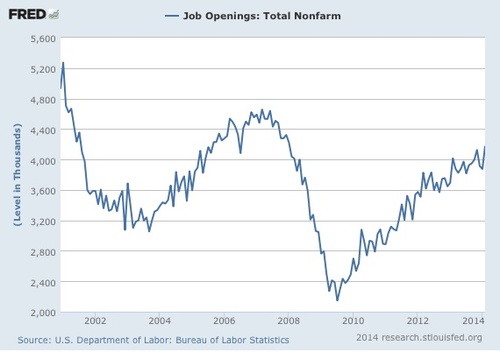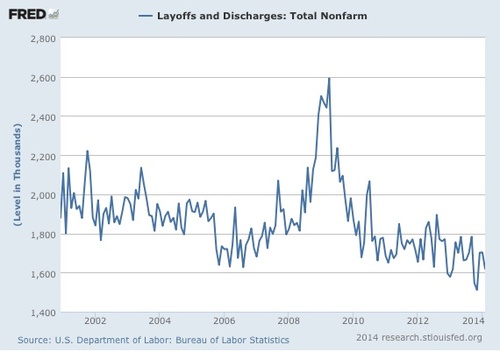 The data suggests that the jobs picture is indeed improving and on the rebound.
The first test of the year for investors is to manage their reflexive behavior and stay committed to their plan, regardless of the volatility. It's one thing to reexamine your personal or organizational financial picture and to make portfolio adjustments accordingly. It's an entirely different, and perhaps destructive, approach to react to normal market volatility, which is needed to generate returns.
Let's hope we all pass this first test of 2014 and don't get JOLT'ed by the volatility.
If you have questions or comments, please let us know as we always appreciate your feedback. You can get in touch with us via Twitter, Facebook, or you can email me directly. For additional information on this, please visit our website.
Tim Phillips, CEO – Phillips & Company
Jeff Paul, Senior Investment Analyst – Phillips & Company
[i] Federal Reserve Economic Data.
[ii] Bloomberg LP.
[iii] Butters, J. (Apr 11, 2014). Earnings Insight. FactSet. p. 1,4.
[iv] Mian, S. (Apr 3, 2014). Taking Stock of the Q1 Earnings Season. Zacks.
[v] Ibid.
[vi] Rooney, B. (Mar 19, 2014). Fed moves economic goalposts. CNNMoney.
[vii] JP Morgan (Mar 31, 2014). 2Q 2014 Guide to the Markets. p. 25.
[viii] Federal Reserve Economic Data.
[ix] Ibid.