The Need for Another Round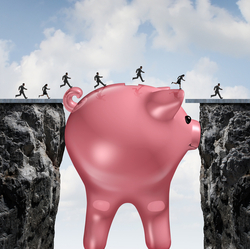 With the recent rise in COVID-19 cases throughout the United States, the ongoing lockdown and recent data suggesting a slowdown in jobs growth, the case is mounting for another round of fiscal support. To put this in perspective, let's take a look at a couple of higher frequency indicators on the health of the overall labor market.
After moderating throughout the summer, initial jobless claims for the week ended October 10 increased 53k. [i]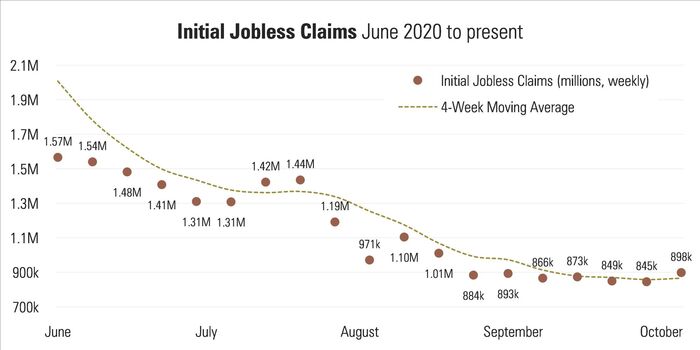 This increase bucked expectations for a decline, although the Department of Labor noted that California's decision to halt processing of new filings for a couple of weeks is potentially causing week-to-week swings in new filings unrelated to changes in economic conditions.
Continuing jobless claims fell by 1.165 million during the week ended October 3. [ii]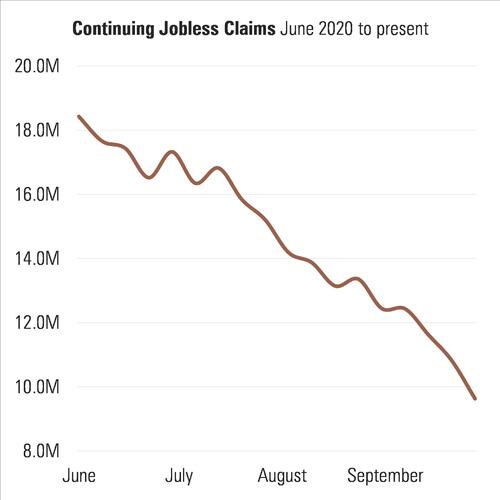 While some of this can be attributed to hiring, Pandemic Emergency Unemployment Claims continue to rise, suggesting many are beginning to exhaust their benefits and relying on extended relief programs. [iii]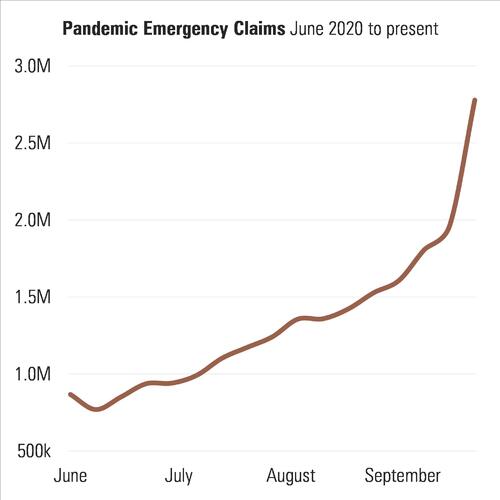 Jobs gains in some of the industries hardest hit by the pandemic – namely food & beverage, hotels and the airline industry – are stalling and remain well-below pre-pandemic levels. [iv]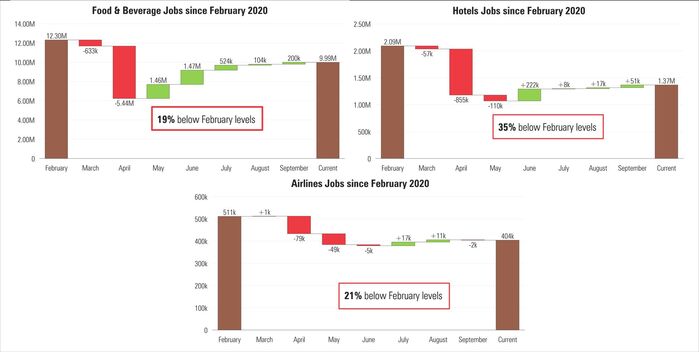 In just these three industries, "missing" wages from jobs lost since February (7 months) would total approximately $73.1 billion, or 0.60% of 2020 GDP.

Going forward, fresh fiscal support for the economy is going to depend a lot on the election results in November, not only in the Presidential race but also in the Congress. While a few measures – like additional loans for small businesses – have clear bipartisan support, passing broad fiscal legislation before year-end could prove difficult if the election results in a change in control of the White House or Congress.
Fiscal policy differences between Republicans and Democrats in the Congress are greater than the differences between Trump Administration and the House. As shown below, the recent negotiations over a COVID-19 relief package show the Trump Administration's $1.8 trillion offer and Speaker Pelosi's $2.4 trillion request are much closer to each other than either is to the $500 billion Senate Republican proposal. [v] [vi]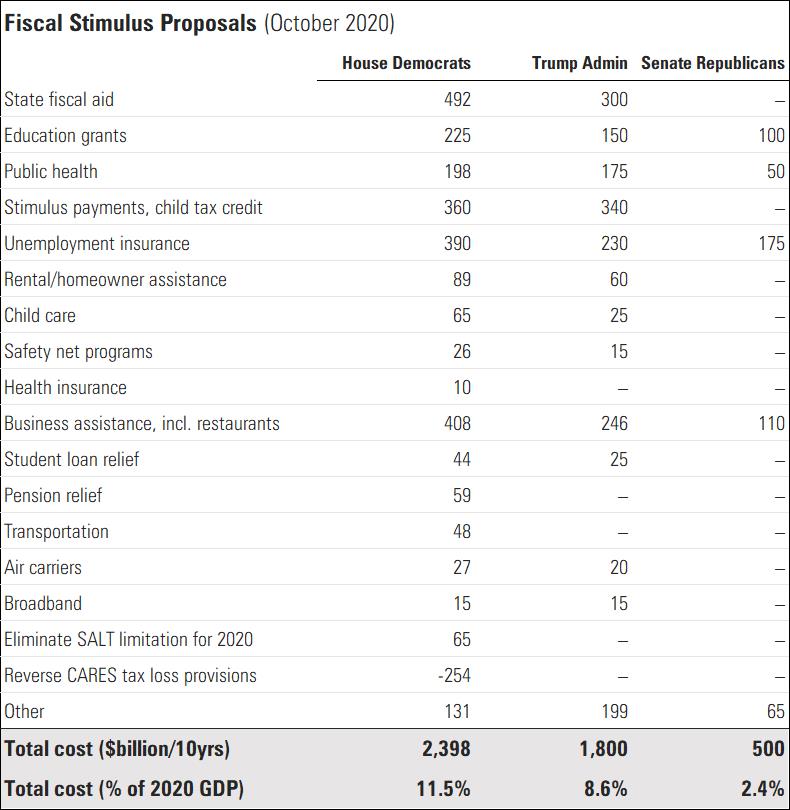 At the end of the day, it is clear more fiscal support is wanted and needed to continue to bridge the U.S. economy and American worker to the other side of this second wave of the pandemic. Hopefully our government can make that happen and avoid additional heartache for the American worker.
If you have questions or comments, please let us know. You can contact us via Twitter and Facebook, or you can e-mail Tim directly. For additional information, please visit our website.
Tim Phillips, CEO, Phillips & Company
Sources:
i. https://fred.stlouisfed.org/series/ICSA
ii. https://fred.stlouisfed.org/series/CCSA
iii. https://fred.stlouisfed.org/series/B1590C1A027NBEA
iv. https://beta.bls.gov/dataQuery/search
v. https://appropriations.house.gov/news/press-releases/house-passes-updated-heroes-act
vi. https://home.treasury.gov/news/press-releases/sm1155