The New Millennium All Over Again
On Thursday, the Dow Jones, NASDAQ, and S&P 500 all hit all-time highs, respectively. [i]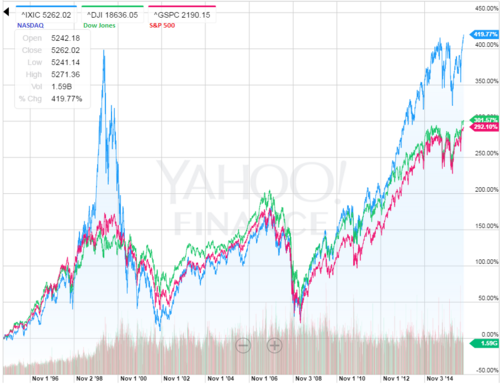 According to our research vendor, Bespoke, the last time this occurred was December 31st, 1999. The likely reason no one remembers this moment was that we were all too focused on Y2K. At the end of 1999, people were busy storing cash and gold coins just in case all the global computer systems crashed at the stroke of midnight on 01/01/2000. [ii]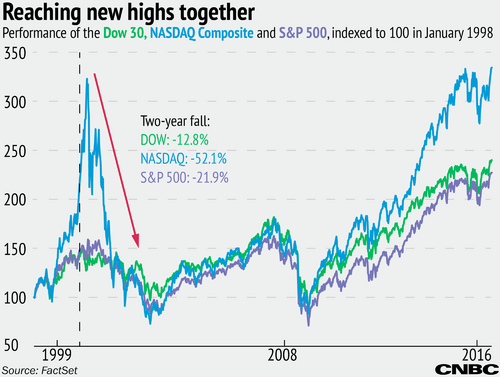 Yet, typical of human behavior, many will remember the subsequent tech bust that occurred just a few months later. Behaviorally, we tend to remember the painful episodes and forget the pleasantries. [iii]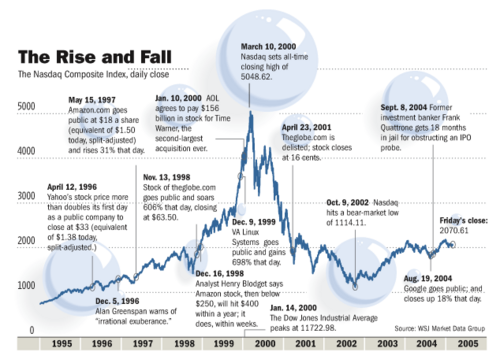 In 2000, valuations in 2000 were extraordinary. [iv]
| | |
| --- | --- |
|   | P/E |
| S&P 500 | 29 |
| Dow | 25 |
| Nasdaq | 59 |
As for today, while valuations have not been this high since 2010, they are certainly not at the same levels as 2000.
| | |
| --- | --- |
|   | P/E |
| S&P 500 | 19 |
| Dow | 18 |
| Nasdaq | 24 |
Undeniably, it does not go unnoticed that prices have been up 6.9% on the S&P 500 this year and earnings have simultaneously dropped by 1.9% this year. [v]
I am not predicting a similar collapse in prices, however, I do believe markets are fully valued and earnings expectations must materialize. Unfortunately, it now appears earnings expectations for Q3 look to be negative only returning to growth in Q4. [vi]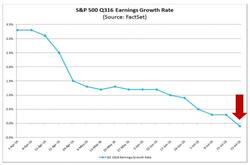 That would make five consecutive quarters in a row with negative earnings growth. The last time we saw an earnings recession this long was 2008 and 2009, which was followed by the stock market rally in March 2009.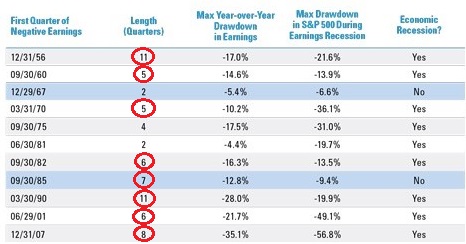 Although current economic data suggests a continued modest growth economy, the risk of recession looms larger if we don't see a recovery in earnings soon. Likely the best place to hide will be some increase in cash and cash alternatives, along with strong dividend payers as allocation tilts.
If you have questions or comments, please let us know as we always appreciate your feedback. You can get in touch with us via Twitter, Facebook, or you can email me directly. For additional information on this, please visit our website.
Tim Phillips, CEO – Phillips & Company
Chris Porter, Senior Investment Analyst – Phillips & Company
References:
[i] http://www.google.com/finance
[ii] http://www.cnbc.com/2016/08/12/record-high-stocks-last-time-all-three-indices-broke-record-a-fall-came-next.html
[iii] http://ipcarrier.blogspot.com/2013/11/tech-sector-is-in-bubble.html
[iv] http://www.wsj.com/articles/stocks-hit-new-highs-and-that-could-be-just-the-start-1470954978
[v] http://www.factset.com/websitefiles/PDFs/earningsinsight/earningsinsight_8.12.16
[vi] http://www.factset.com/websitefiles/PDFs/earningsinsight/earningsinsight_8.12.16
[vii]

http://thereformedbroker.com/2016/06/02/what-you-need-to-know-about-the-earnings-recession/