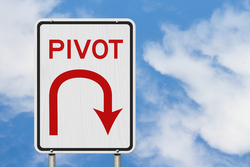 After one of the most rapid and extreme increases in interest rates in history, I believe the Fed is about to signal a pivot to a pause. I'll lay out the case and conclude with the Fed's comments. 1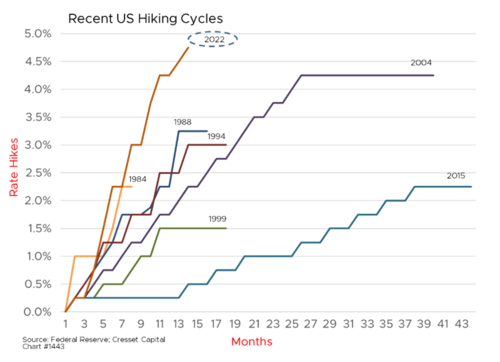 In light of the strength in the recent jobs report, one might wonder if the Fed is prepared to pause soon. The U.S. economy added 253,000 jobs in April, far surpassing the March numbers. The 3-month average continues to trend downward, but the full story is in the past. After looking at February and March revisions to the jobs survey results, the jobs picture appears to be weakening more than the headlines suggest. 2 3

You might also think the modest increases in average hourly earnings would continue to fuel the inflation narrative. However, the mix in jobs added suggests higher wage jobs were added more so than lower wage hospitality jobs, shifting wages higher. Look at education, health services, and professional services compared to leisure and hospitality. 4 5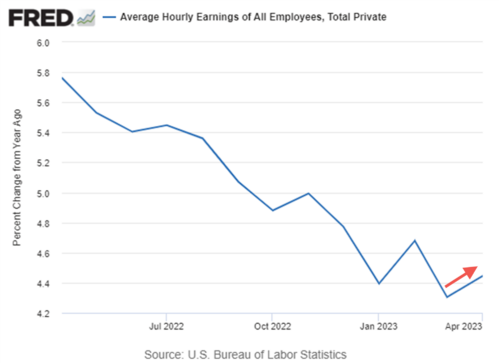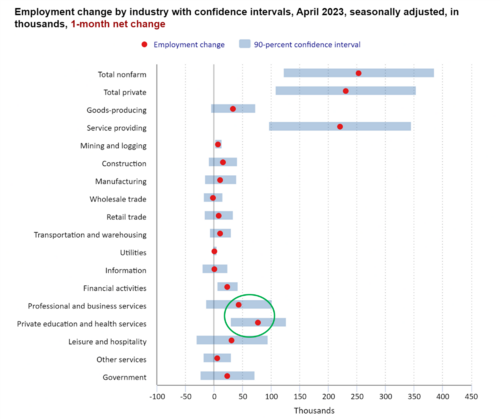 Here's the kicker: credit conditions continue to tighten by most measures. As reported by small business owners, credit conditions are as tight as they have been since climbing out of the Great Financial Crisis. 6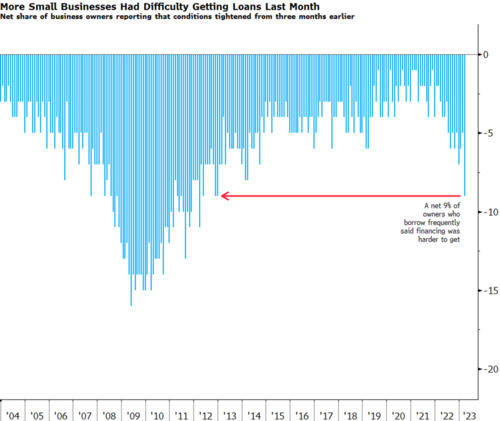 Senior Loan Officers are saying the same thing, with the proportion of U.S. banks tightening terms on loans for medium and large businesses rising to 46% in the first quarter. 7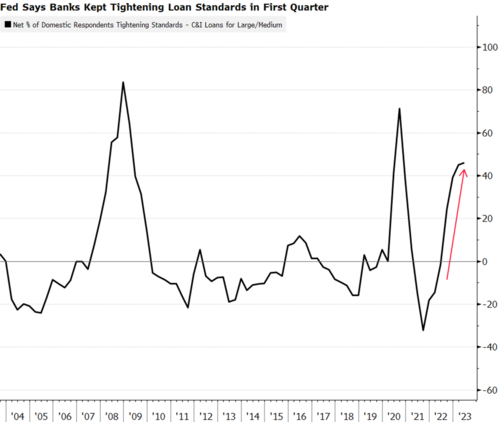 The largest businesses are also discussing tighter credit conditions during earnings calls, with nearly 30% making mention of the phrase "credit crunch" during their report. 8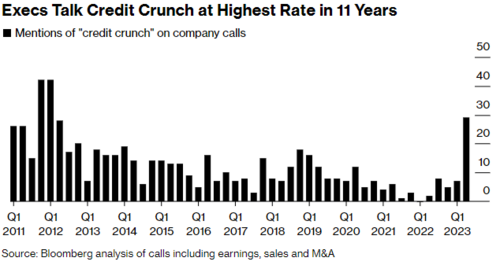 Even the Fed Chair recognizes the fact that the recent credit tightness might be doing the work for the Fed. When discussing the recent banking crisis and credit tightness last week he stated…9
"We think that, you know, interest rates -- in principle, we won't have to raise the rates quite as high as we would have had this not happened."
He went on to state…9
"With our monetary policy we're trying to reach and then stay at a for an extended period a level of policy, a policy stance that's sufficiently restrictive to bring inflation down to 2 percent over time."
Further he opined…9
"We may not be far off for. We're possibly even at that level."
 One thing to note is the Fed Chair believes there is a strong possibility that the economy could avoid a recession while bringing down inflation…9
"But it just seems that -- to me that it's possible that we can continue to have a cooling in the labor market without having the big increases in unemployment that have gone with many, you know, prior episodes"… "the case of avoiding a recession is, in my view, more likely than that of having a recession."
This phase of the credit cycle may be coming to an end soon. Here's some really good news:
First, the trajectory of the economy drifting down does not necessarily indicate corporate earnings are going to contract further. There is a lag effect to this, especially if this is a modest growth recession. 10
Second, the pause in rates has traditionally been followed by cuts (on average) 5 months later. Perhaps investors are discounting the rate cuts even before the Fed pauses the rate hike cycle. 10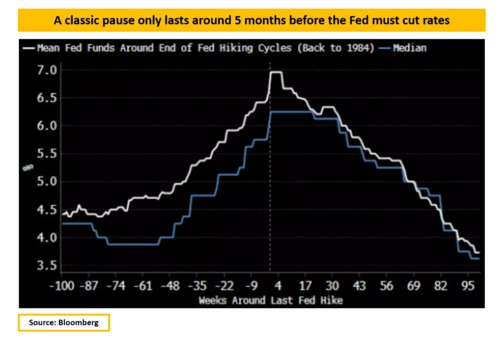 Third, usually equity markets signal a change when corporate earnings estimates get very dire. I think Q1 may have been that signal. If you recall from past blogs, earnings estimates were scheduled to shrink by -6.7%. That's pretty bad. Today actual earnings are coming in at a much better than anticipated - 2.2%. 11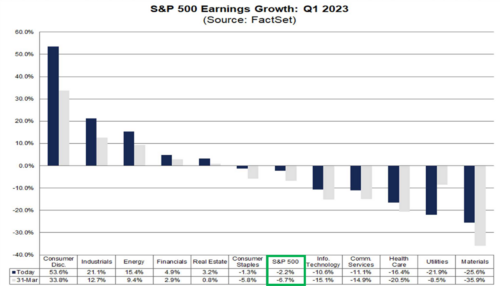 Finally, if indeed we are at the end of the rate cycle, we historically have seen some very strong equity returns. 80% of the time the S&P 500 is up after 12 months and on average gains 14%. 12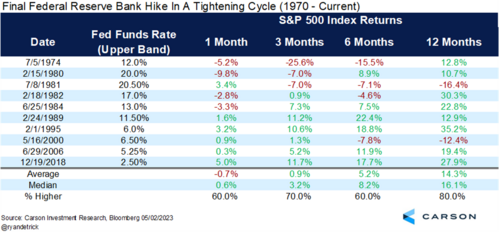 The pivot to pause can be greatly beneficial.
If you have questions or comments, please let us know. You can contact us via Twitter and Facebook, or you can e-mail Tim directly. For additional information, please visit our website.
Tim Phillips, CEO, Phillips & Company
Sources: