The Regular Joes Are in Charge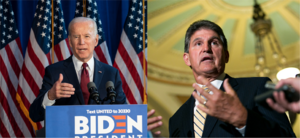 An economic or market blog is almost hard to scribe after the events that transpired last week in our nation's capital. While market forces looked past the turmoil on Wednesday and, overall, rallied on hope of more fiscal stimulus; we would be remiss to not address some of the potential implications. [i]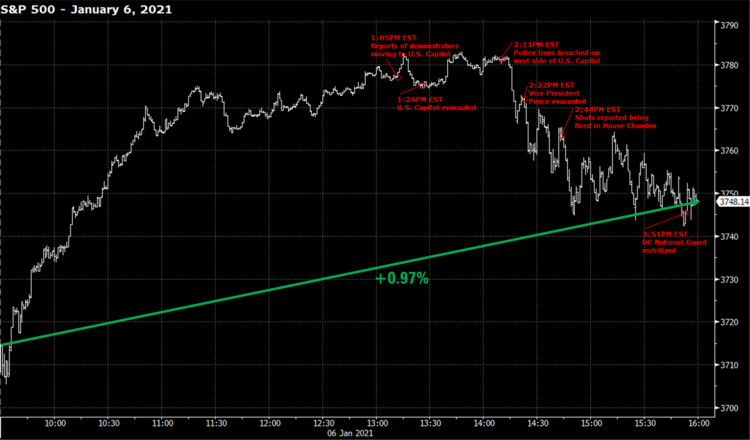 Sadly, we laid bare a terrible rift in our society that has been festering below the surface for many, many years and as an open wound for the last four years. Our democracy has left people behind and in sheer rage. The terrible events on January 6th were inconceivable and inexcusable.
It is hard not to reflect on the extremely wide sweeping (3,500 surveys, 25 data sources, and 4 million responses) "Global Satisfaction with Democracy in 2020" survey conducted by the University of Cambridge. The survey covered many countries and millions of participants, here are a few summary slides and the full survey is here for your review. [ii]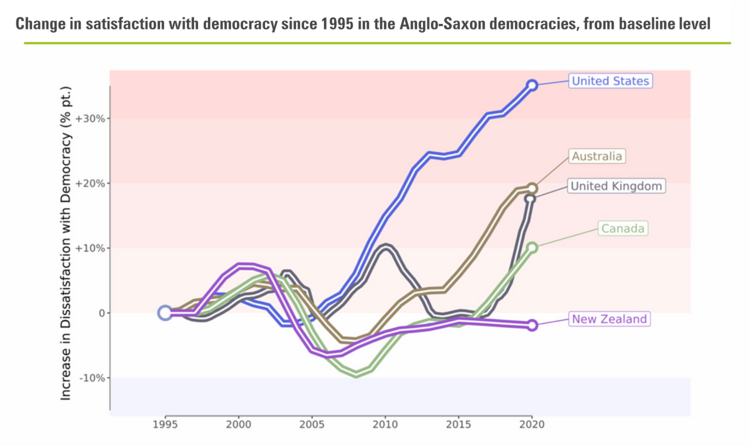 Satisfaction with democracy has been in decline across many countries for over a decade, with the highest dissatisfaction in the United States. Here's a look at the other countries in the survey. [ii]

Looking at the small "Island of Contentment" within highly socialized democracies versus ours tells us something about what might be ailing us.
Though it is not in the scope of the survey, the survey suggests respondents' levels of dissatisfaction are driven by:
• Economic shocks
• Corruption
• Scandals
• Policy crisis
These issues have an immediate, observable effect on average levels of civic dissatisfaction. Pandemics certainly do not help when democracies overpromise and underdeliver.
As we move past this difficult moment of national reflection, we will likely see even more economic stimulus than prior to January 6th with control of the full government now consolidated by one party. Perhaps some of that stimulus is to provide more satisfaction with the dysfunctions of our democracy.
From our Look Ahead (published before the Georgia elections) we suggested some impressive stimulus.
Within a very short period of time, we could see that 10.23% of total GDP turn into 13.82% of GDP if Congress and soon-to-be-President Biden pass additional stimulus, including the $2,000 payments to individuals, additional state and local fiscal aid, and extended unemployment benefits.

There will certainly be some hand wringing when it comes to raising taxes during a pandemic that has many businesses and employees idle. [iii] [iv]

Here is a quick summary on what could transpire over the course of this year: [v]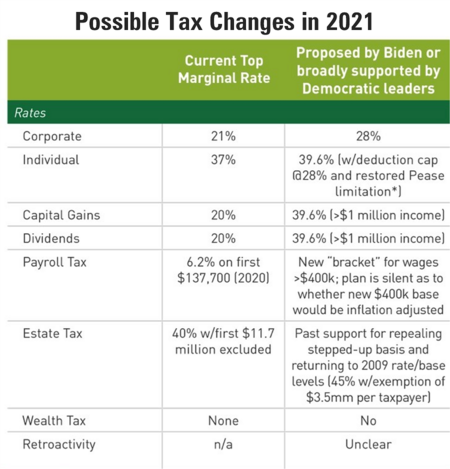 In addition, here is a detailed run down of the various proposals put forth by the Biden campaign: [vi]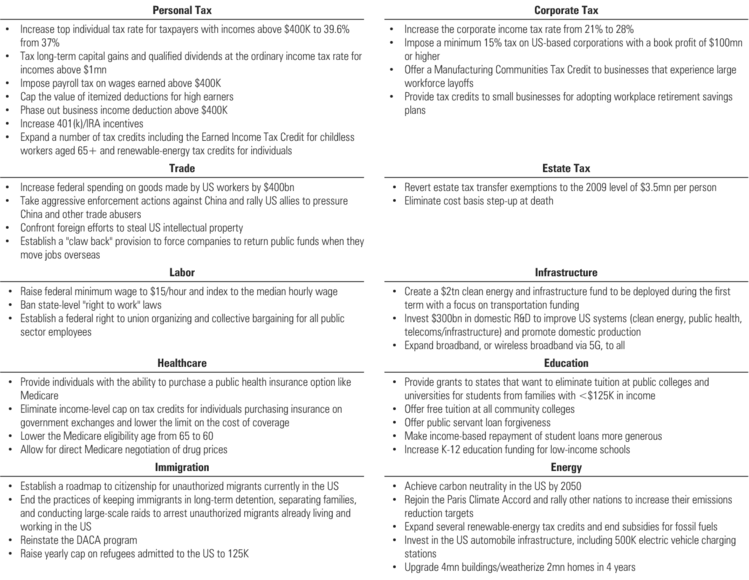 It is possible that Senate Majority Leader Schumer will want to hold his title coming into 2022 and perhaps moderate some of the tax increases. After all, some of these expire in 2026.
Another moderating force will be Senator Joe Manchin (D) from West Virginia. This is a state that is almost equally divided between Republicans (36.35%) and Democrats (36.82%). With a 50/50 split in the Senate, his one vote might be the key to moderation. While the Vice President can cast a tie breaking vote, it may not be in her own political best interest to do so too many times with such a divided nation.
It might feel like our democracy suffered; in the end we might just be much better off with a narrowly divided government that reflects our country's current mood.
The Regular Joe from West Virginia could have as much influence as the Regular Joe from Scranton, Pennsylvania.
Our thoughts and prayers are with our friends and associates that frequent the halls of Congress.
For our full Look Ahead please click here, or watch our narrated presentation here.
If you have questions or comments, please let us know. You can contact us via Twitter and Facebook, or you can e-mail Tim directly. For additional information, please visit our website.
Tim Phillips, CEO, Phillips & Company
Sources:
i. https://www.bloomberg.com/quote/SPX:IND
ii. https://www.bennettinstitute.cam.ac.uk/media/uploads/files/DemocracyReport2020_nYqqWi0.pdf
iii. https://www.yelpeconomicaverage.com/
iv. https://www.bls.gov/
v. https://www.breckinridge.com/insights/details/georgia-runoff-elections-shift-2021-outlook/
vi. https://joebiden.com/presidency-for-all-americans/