The Trump Global Demise / Rally
Last week was certainly a surprising and eventful week that few predicted. The election of Donald Trump as our 45th President caught most Americans by surprise, as the odds were resoundingly against a Trump Presidency. [i]

The only data point that had a high probability of Trump as President was a chart from our prior post that, based upon market activity before an election, predicted he would win. [ii]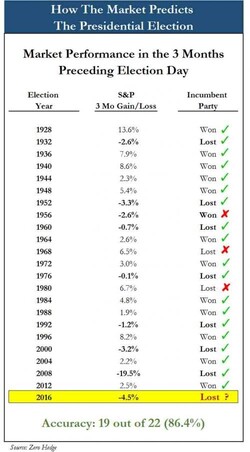 If that weren't enough of a surprise, the Dow Jones has rallied over 5% since the election, chalking up the best week in five years, while setting new highs. [iii]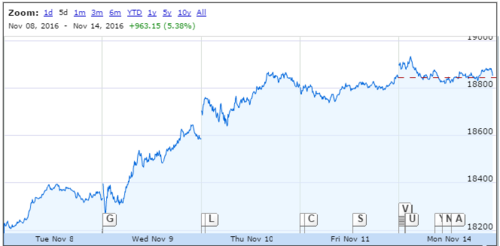 Investors shook off the threat of a Trump-induced global trade war in favor of some of his other policies.
Tax Reform (See Table Below) [iv]

Trump proposes having three tax brackets, decreasing from the current seven brackets, and repealing the head-of-household tax-filing category.
Trump's standard deduction would be $30,000 for married couples filing jointly (increasing from the current $12,600) and $15,000 for single individuals (increasing from $6,300).
Repeal Alternative Minimum Tax.
Place a cap on itemized deductions.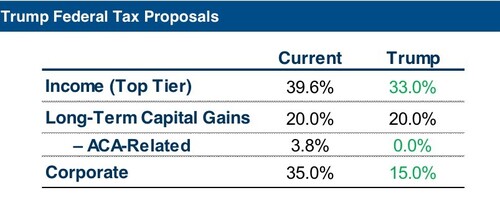 Repatriation of $2.6 trillion dollars from off-shore, the equivalent to an additional 13% boost to current GDP. [v]

The proposed repatriation on untaxed foreign income would be a 10% rate for cash and 4% for earnings not represented by cash.

Repeal of parts of Obama Care [vi]

Trump has backed away from his earlier assertions to repeal the Affordable Care Act in its entirety.
Trump favors keeping the law's rules barring insurers from turning away those with pre-existing conditions, as well as its allowance that those up to age 26 can remain on their parents' insurance.

Estate Tax Policy [vii]

The Federal Estate Tax would be eliminated.

Regulatory Reform [viii]

"Government should do public works and safety, and little else," Donald Trump.
Dismantle the Dodd-Frank Wall Street Reform Act.
In fact, when you look at political party control and equity market returns, Republican control of both houses and the Presidency is not necessarily that bad. While not the best possible combination (from a historic return perspective), we should all be able to live with the returns. [ix]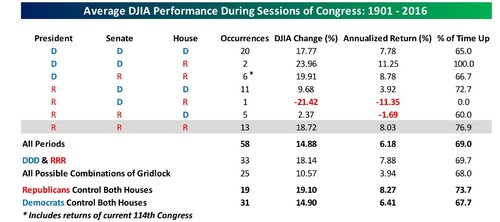 You can see from the data provided by our friends at Bespoke that an annualized investment return of 8%, which occurs 77% of the time, is not something to sneeze at. [x]
Before we give Trump too much credit for the market rally, we should look at what I believe is driving investors back into equities: Earnings growth. [xi]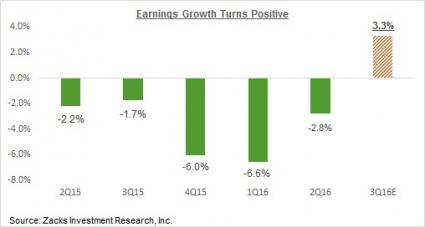 After five consecutive quarters of declines in earnings, we have finally turned the corner. With 91% of S&P 500 companies reporting earnings, we have growth of 2.9% vs an expected decline of -2.2%. [xii]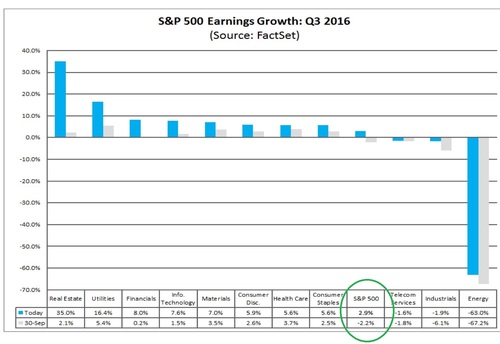 There are certainly significant risks to the recovery in earnings from a Trump Presidency as it relates to trade. If Trump pursues a trade war agenda (per the Petersen Institute for International Economics), we could see over a 2% decline in GDP. [xiii]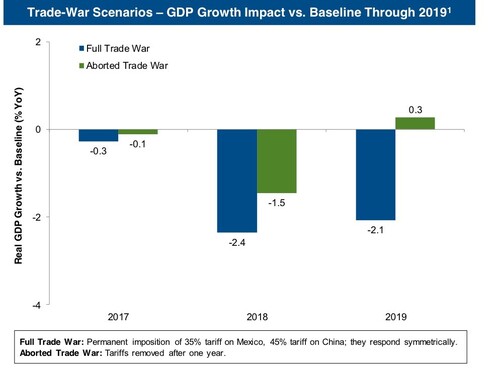 I'm betting on a Trump Presidency fueling a resurgence in earnings with lower taxes, reduced regulations, and a pro-growth agenda supporting our current rally. Based upon his moderating language during his victory speech, comments after his meeting with President Obama, and last night's interview on 60 Minutes, he may be focused on the right things.
If he chooses to pursue an isolationist agenda, there could be a fair degree of pain and suffering.
Let's hope for a growth rally vs global demise.
If you have questions or comments, please let us know as we always appreciate your feedback. You can get in touch with us via Twitter, Facebook, or you can email me directly. For additional information on this, please visit our website.
Tim Phillips, CEO – Phillips & Company
Chris Porter, Senior Investment Analyst – Phillips & Company
References:
[i] http://projects.fivethirtyeight.com/2016-election-forecast/
[ii] www.infowars.com/the-stock-market-has-predicted-the-outcome-of-presidential-elections-with-86-percent-accuracy/
[iii] https://www.google.com/finance
[iv] http://www.npr.org/2016/11/13/501739277/who-benefits-from-donald-trumps-tax-plan
[v] http://www.nytimes.com/2016/11/06/your-money/strategies-corporate-cash-repatriation-bipartisan-consensuss.html
[vi] http://www.cnn.com/2016/11/13/politics/kellyanne-conway-trump-special-session-congress/
[vii] http://www.ontheissues.org/2016/Donald_Trump_Government_Reform.htm
[viii] http://www.housingwire.com/articles/38500-trump-unveils-plan-to-dismantle-dodd-frank-act
[ix] /files/7614/7916/2442/B.I.G._Tips_-_Republican_Sweeps.pdf
[x] /files/7614/7916/2442/B.I.G._Tips_-_Republican_Sweeps.pdf
[xi] https://www.zacks.com/commentary/95269/the-earnings-recession-ends-in-q3
[xii] http://www.factset.com/websitefiles/PDFs/earningsinsight/earningsinsight_11.11.16
[xiii] /files/8314/7916/3173/2016_US_Election_Results_-_Goldman_Sachs.pdf