The Virtuous Economy - Spinning at Last
It's been well over 4 years since we wrote about the need for the return of the self-fulfilling economic cycle, one where the consumer earns and spends. In turn, US companies earn, hire, and produce, which drives more income earners to spend. It's a "virtuous cycle" or a complex chain of events with a reinforcing feedback loop to be certain.
That's exactly where I think we are today.
Last week we saw the US economy grow by 3.9% in Q3, revised up from a prior estimate.[i] Much of that growth came from consumption and an expansion of inventories, both strong components of the "virtuous cycle".[ii]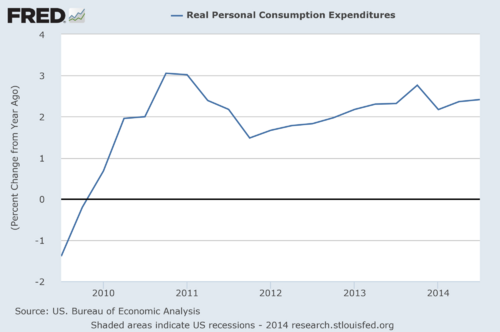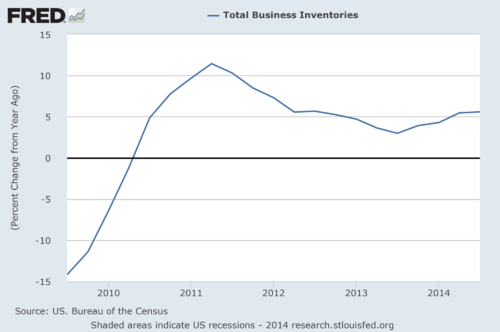 Another strong indication of the cycle is the amount of savings the US consumer is willing to spend down. From the chart below you can see some relatively high savings rates and certainly a willingness to spend down.[iii]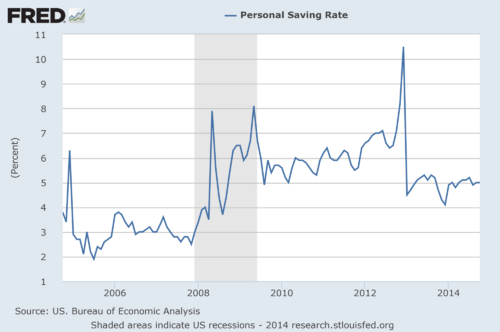 Further, a historic drop in oil prices is a strong additive to the consumer's wallet.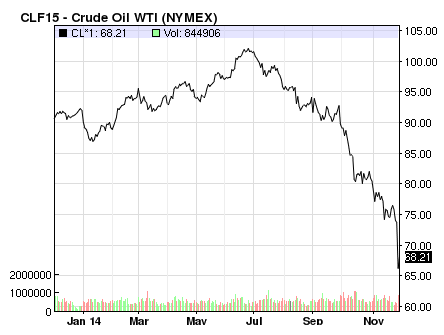 While we can speculate on the timing of a rise in oil prices, there are certainly some forces that are at play.
Incentives for the Saudis to keep production at current levels motivated by our involvement in Syria. Any punishment of Russia and Iran are added bonuses.
A dynamic US oil patch that can produce profitable oil in the low $40 per barrel range in many regions.
While production cuts can be made and felt in 3 months or less, these are some trends that can keep prices low and drive more disposable dollars into the US consumer's pocket.
Further, we are seeing a small lift in personal income and more Americans getting back to work. In fact, 2014 is setting up to be one of the best years for employment since the mid-1990's. If the November report comes in at 176k+ jobs we will certainly be on track to beat some employment records.[v]
As of the October BLS report, the economy has added 2.225 million private sector jobs, and 2.285 million total jobs in 2014.[vi] The consensus is the economy will add another 220 thousand jobs in November (215 thousand private sector jobs). If that happens, 2014 will be the best year for private employment since 1999.[vii]
Here is a table showing the best years for nonfarm employment growth since 1995. To be the best year since the '90s, the economy needs to add an additional 222 thousand total nonfarm jobs.[viii] This could happen in the November report to be released next Friday, December 5th, or in the December employment report to be released in early January.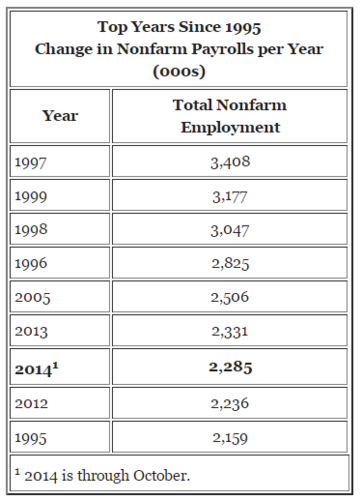 This is happening with only 60 thousand public sector jobs added so far this year. For comparison, there were 186 thousand public sector jobs added in 2005.[ix]
Confirming all of this is the amount of sales this weekend. While store sales on Black Friday were reportedly down 7%, special attention should be paid to two trends, the amount of sales occurring on Thanksgiving Day and the record amount of digital sales.[x]
Store sales on Thanksgiving Day increased 24% to $3.2 billion.[xi]
Thanksgiving Day online sales were up 14.3% compared to 2013.[xii]
Black Friday online sales were up 9.5% compared to 2013.[xiii]
We will soon find out if Cyber Monday sales follow this trend and provide a boost to the Thanksgiving weekend sales total.
All of this speaks to the amount of confidence that the US Consumer currently has. It's certainly higher than in the past several years.[xiv]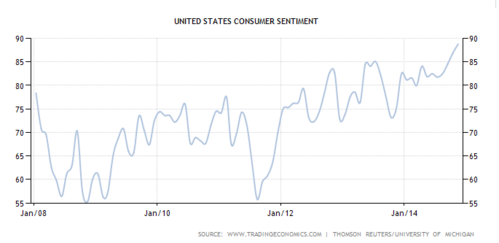 It's hard to imagine the largest single-country economy in the world, ours, being built on something as fragile as confidence. However, it's that simple concept that can keep the virtuous cycle spinning through the end of the year.
If you have questions or comments, please let us know as we always appreciate your feedback. You can get in touch with us via Twitter, Facebook, or you can email me directly. For additional information on this, please visit our website.
Tim Phillips, CEO – Phillips & Company
Jeff Paul, Senior Investment Analyst – Phillips & Company
References
[i] Udland, M. (Nov 25, 2014). America Beats Expectations. Business Insider.
[ii] Federal Reserve Economic Data.
[iii] Ibid.
[iv] NASDAQ.com. (Dec 1, 2014). Crude Oil WTI.
[v] McBride, B. (Nov 28, 2014). Possible Headline for Next Friday: "Best Year for Employment since the '90s". CalculatedRisk.
[vi] Ibid.
[vii] Ibid.
[viii] Ibid.
[ix] Ibid.
[x] AP. (Nov 29, 2014). Black Friday Sales Fall as Sales Start Earlier. ABC News.
[xi] Ibid.
[xii] IBM. (Nov 2014). U.S. Retail Black Friday Report 2014. IBM.
[xiii] Ibid.
[xiv] TradingEconomics.com. US Consumer Sentiment.