Transitory- 5 Gradual- 9, Gradual Wins!!
The US Consumer balance sheet is as strong as it has ever looked. With 97 trillion in assets and 14 trillion in liabilities, consumers have a very strong net worth.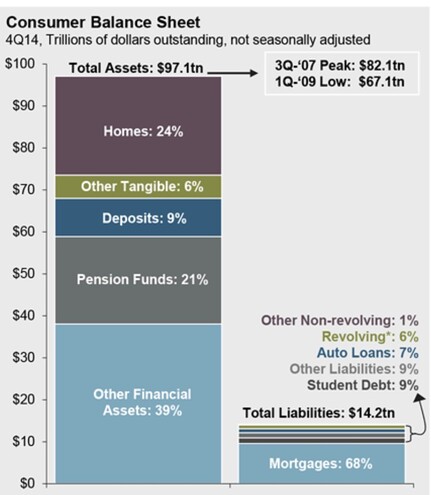 In fact, when you look at American's debt service levels they are at the lowest point since the Federal Reserve began tracking this data. Less than 10% of US Consumers disposable income goes to servicing debt.
With such a strong balance sheet and very low debt service payments being made, it's hard to see what all the fuss is about in regards to the Federal Reserve raising interest rates.
However, in spite of the strong US Consumer balance sheet, there is no doubt the world is focused on US interest rate policy. Recently the International Monetary Fund (IMF) made a historic request, asking our Federal Reserve to postpone a rise in US interest rates.
At the Fifteenth Annual International Conference on Policy Challenges for the Financial Sector, Managing IMF Director Christine Lagarde expressed her concern over "pockets of vulnerability" in the US economy saying,
"The U.S. Federal Reserve should delay a rate hike until the first half of 2016 until there are signs of a pickup in wages and inflation." [i]
Based on the Federal Reserve's comments from their meeting last week, they might just grant that wish. Although still unlikely, the Fed governors pushed down and out their expectations for having to raise rates.
From the Dot Plot provided by the Federal Reserve you can compare each Fed Governors expectations for rates rising. Compared to March (green dots) they have pushed their expectations out to later this year and down.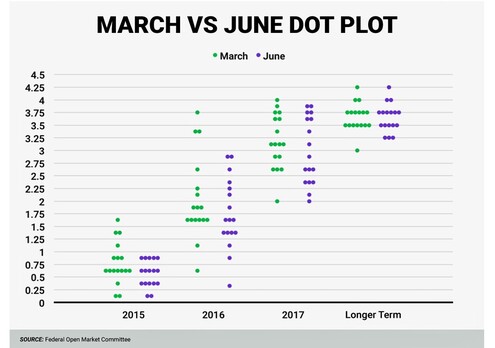 Reading directly from the Fed statement of last week.[ii] Chairwomen Yellen noted a weakening employment picture. Stating the last three months have seen an average of 210k new jobs per month being added to the US Economy vs the 280k jobs added per month in the second half of last year.
Yellen sights "transitory" factors, weather and energy price declines, as reasons the Fed continues to lean toward their first interest rate rise later this year. In fact, she leans heavily on the word transitory; using it 5 times in her comments.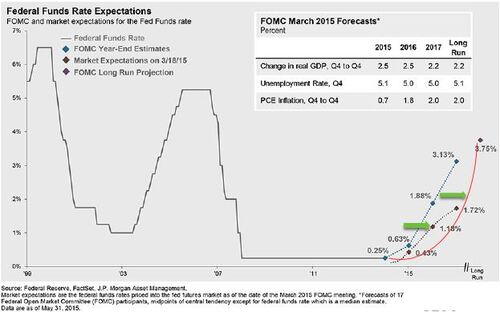 Chairwoman Yellen also gave current velocity of rate increases emphasizing a "gradual" approach. In fact, gradual was used 9 times in her statement.
You can see the Fed's current projection drawn in red on the chart. Rates are projected to be at the 1.75% by the end of 2016 and 2.75% at the end of 2017, still below their longer term consensus target rate of 3.75%.
For those of us who borrow money to fund consumer purchases such as our housing (mortgage), college expenses (tuition), capital equipment, cars or investments, it appears the message is clear; rates will rise "gradually" depending on the "transitory" factors.
If you have questions or comments, please let us know as we always appreciate your feedback. You can get in touch with us via Twitter, Facebook, or you can email me directly. For additional information on this, please visit our website.
Tim Phillips, CEO – Phillips & Company
References
[i] Lagarde Quote: http://www.reuters.com/video/2015/06/04/imf-warns-fed-should-delay-rate-hike-unt?videoId=364475884&mod=related&channelName=ousivMolt
[ii] Fed Press Conference: http://www.federalreserve.gov/mediacenter/files/FOMCpresconf20150617.pdf