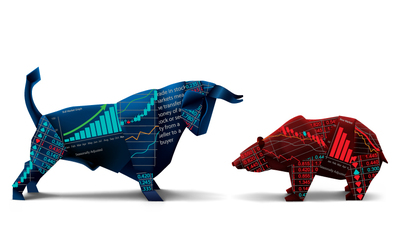 I know the title of this blog might be controversial and in some regards it may not be entirely accurate. As I wrote last week, Trump threw in his cards on China and in many respects foreign affairs experts are dubbing Trump a "paper tiger." It's hard to suggest Trump crushed it.
Not so fast. One area Trump does get tremendous credit is for the outstanding performance of the U.S. stock market since he took office. Borrowing from our longtime friends at Bespoke Research, here are a few interesting graphs (data since 1928). [i]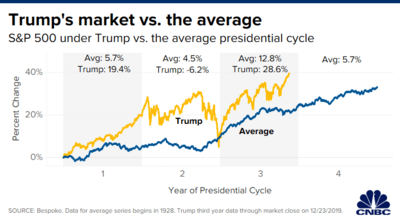 Trump's first and third presidential years look remarkable. Oddly enough, the year his tax cut's took effect – his second year – was his worst. Not surprisingly, markets tend to be great anticipatory machines and it is likely the tax cuts passed in his second year were expected and he drew credit for those during his first year.
In my opinion, the astounding performance in year three is likely anticipating a strong recovery in year four corporate earnings and a resolution to the trade war with China. My expectation for Trump's fourth year is to be on par or slightly below average.
Pulling forward to a more recent period of time (data since 1940) and the fourth year of a presidential term still looks very promising. [ii]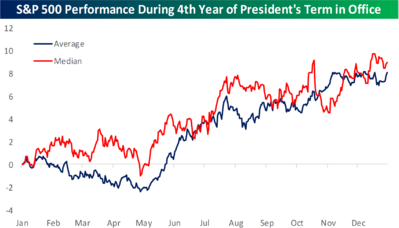 The average gain in a President's fourth year is 7.9%.
Here's something to keep an eye on that could have policy implications. Since 1944, if the S&P 500 rose in price from July 31 through October 31 of a presidential election year, the incumbent party was re-elected 80% of the time. If the market is down during the period, the incumbent party lost the White House 86% of the time.
Make no mistake, President Trump either knows this data or understands the importance of the stock market to his re-election bid. He doesn't have much left to manipulate in the way of fiscal policy, however he did pass a massive 2020 spending bill recently that will fuel additional GDP growth.
The bill, signed by President Trump on December 20, will allocate a total of $1.3 trillion with $738 billion to the military and $632 billion allocated to non-defense agencies. This represents approximately 5% of GDP and an increase over fiscal 2019 of $22 billion for the Pentagon and $27 billion for non-defense, respectively.
When it comes to monetary policy and interest rates, Trump can always manipulate the Federal Reserve like he did using China trade. This time, my guess is he will use a threatened trade spat with the European Union over their cars and our agricultural products to try and keep the Fed on the sideline for the coming election year. Perhaps he will attack Great Britain and their animus for our modified, hormone-filled foods as trade bait. Either way, creating some economic uncertainty as a tool to control the Fed and interest rates is part of his new tool chest.
That shouldn't be hard, as the Fed has a long tradition of not raising rates in the fourth year of a presidential cycle. [iii]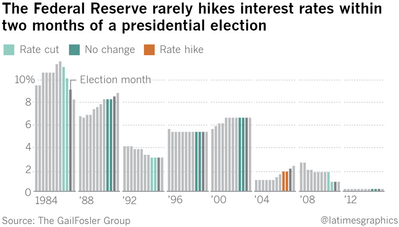 When it comes to a simple question of who's better for our stock market, Democrats or Republicans; the data is clear. [ii]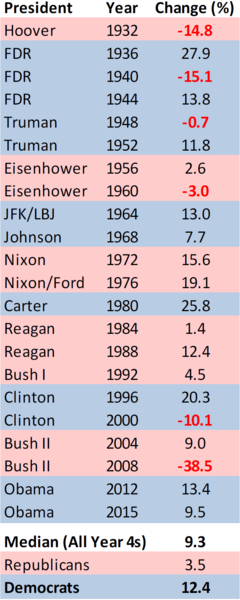 In terms of returns based on political party, trends in year four are even more lopsided than they are overall. The median gain of the S&P 500 during year four of a Democratic administration is 12.4%, while for Republicans, it is just 3.5%.
The team at Bespoke also did a stellar job breaking down which sectors perform best during the fourth year of a presidential term. [ii]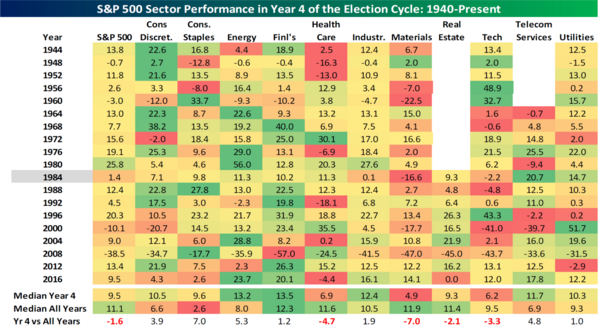 Overall, sectors like Energy and Financials performed the best since 1944, yet both of those sectors had mediocre performance in the third year of a presidential term. It would not be surprising to see these two sectors recover in 2020.
All of this data is long dated, which is good. However, in many respects, it's anecdotal in the sense that there is little attribution to specific events or economic activity. Anything can happen when investing in equities, and usually does.
Trump crushed it with the stock market this year and I suspect he will do everything in his power for the stock market to keep crushing it if he wants to keep his job.
Keep an eye out for our Q1 2020 Look Ahead coming next week.
The entire team at Phillips and Company wishes you a healthy, happy, and prosperous 2020.
If you have questions or comments, please let us know. You can contact us via Twitter and Facebook, or you can e-mail Tim directly. For additional information, please visit our website.
Tim Phillips, CEO, Phillips & Company
Sources:
i.    https://www.cnbc.com/2019/12/26/trumps-stock-market-rally-is-far-outpacing-past-us-presidents.html
ii.   https://www.bespokepremium.com/interactive/posts/think-big-blog/2020-outlook-washington
iii.  https://www.latimes.com/business/la-fi-federal-reserve-election-20160919-snap-story.html