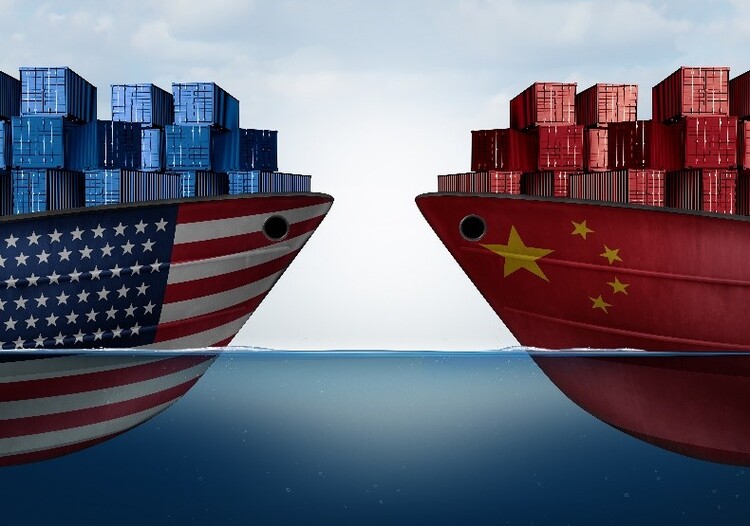 Last week's commentary, which focused on regular recession cycles and the role credit plays in consumption/economic stimulation, can be viewed here.
Over the past few weeks, the United States has witnessed a sharp deterioration in trade negotiations, adding further tension to already stressed global trade relations. This has created a sharp increase in market volatility paired with decreasing equity prices. [i] [ii]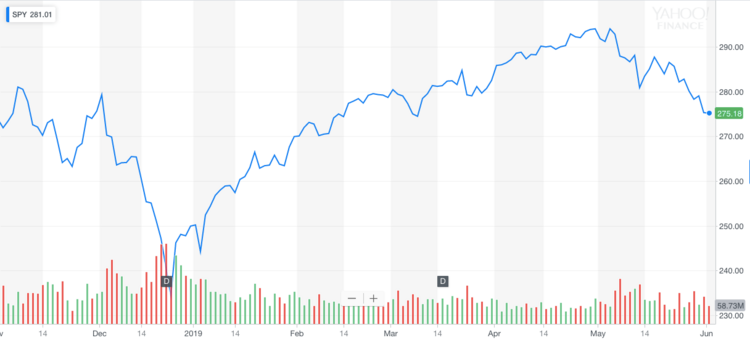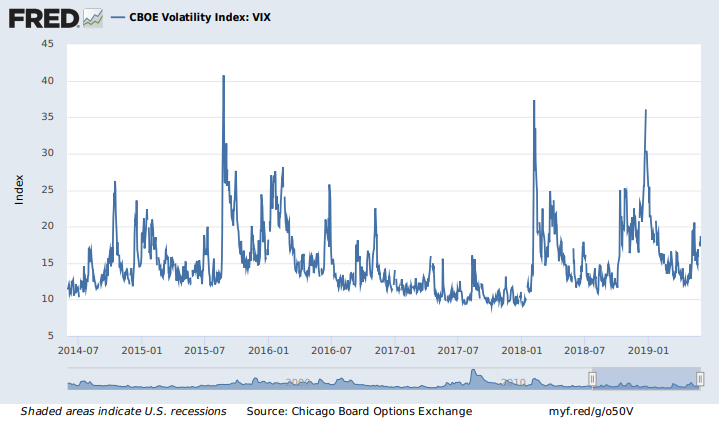 As negotiations continue, the Trump administration's early proposals appear to only serve as a precursor to Trump's broadening view for the future of isolated U.S. global trade. Trump's initial announcement to implement new trade tariffs between the United States and China drew heavy criticism from the global press, but after a few weeks, it has already become old news. The Trump administration took trade regulations to a whole new level when it barred China's largest telecommunications company, Huawei, from conducting business with any American corporations. [iii]
Other global leaders in telecommunications include the following:
China Mobile Ltd.
Verizon
AT&T
Vodafone Group Plc
Samsung
Google
China Telecom
Deutsche Telegraph & Telephone Corp.
These new sanctions have resulted in Google suspending Huawei's access to Android services, Intel announcing it would no longer supply processors for Huawei's laptops, and Qualcomm (a major U.S. manufacturer of systems-on-chip for smartphones and other electronics) announcing it would also suspend business with the Chinese firm. [iii]
In retaliation for the new trade embargos, the Chinese government is putting together an "unreliable entities list" comprising foreign companies believed to be interfering with Chinese businesses. The Chinese government has not yet disclosed this list or stated the consequences imposed on the companies listed, but, the most serious repercussion of the Trump administration's new trade embargo is China's threat to cut off the United States from its supply of rare earth metals—80% of U.S. rare metal imports come from China. These metals are major components in the production of smartphones, computers, advanced missiles, and jet engines. [iv] [v]
Google, Intel, and Qualcomm are affected because they are cut off from the Chinese tech market and the world's largest supply of rare earth metals necessary for the production of their products. [iv] [v] [vi]
The Trump administration continued to increase global trade tension by threatening to place a 5% tariff on all Mexican goods imported into the United States, thus creating a barrier between the United States and its largest trading partner. Because most goods necessary for U.S. auto production are manufactured in Mexico, U.S. auto manufacturers could bear the largest burden inflicted by the new trade tariff. [vii] [viii]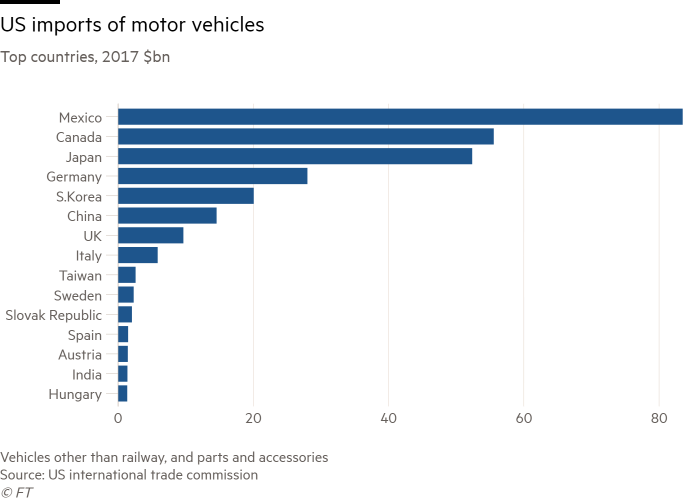 Trump's trade war has now targeted India by removing it from the United States' list of favored trading partners as a developing nation, thereby revoking India's ability to export nearly 2,000 products duty-free to the United States. The U.S. auto industry could suffer another blow from this regulation because auto parts are one of India's largest exports to the United States, further constricting the supply of necessary resources for U.S. auto production. [ix] [x]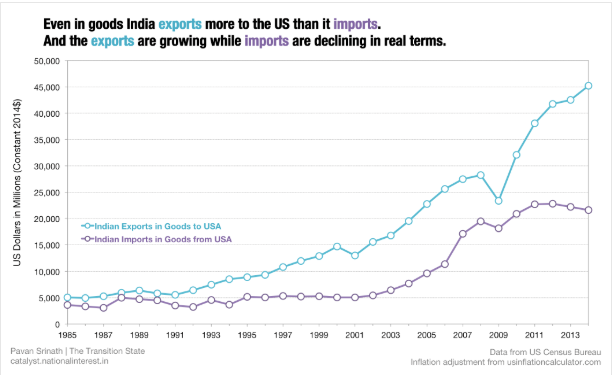 Trump's reelection primarily relies on the voters of Wisconsin, Michigan, and Pennsylvania. To acquire those votes, however, Trump must make his promises of industrial stimulation and job creation a reality in those states. The largest exports of these states are industrial machinery, electrical machinery, non-rail vehicles/parts, automotive parts, coal, and aircraft production. All these industries have experienced, or are expected to experience, higher tariff pricing in an attempt to stimulate exports. [xi] [xii] [xiii] [xiv]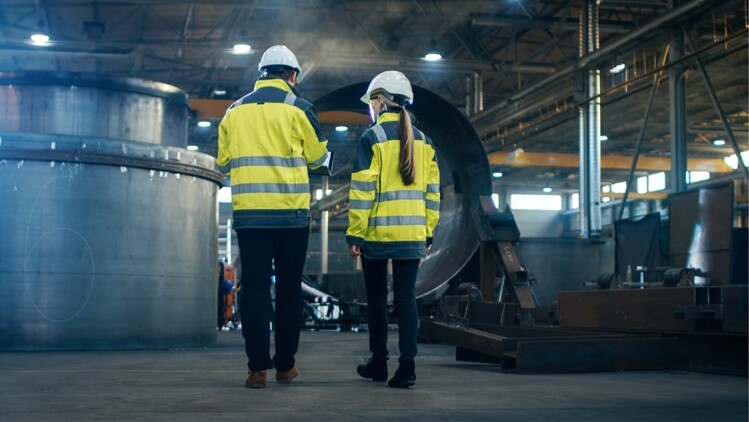 Trump's economic "game of pain" is conveniently taking place during an earnings recession. Markets need earnings growth to stimulate any kind of development or to establish a firm foothold for continued economic growth. Taking these conditions into account, the United States could experience a few more months of pain while Trump tests the limits and capabilities of his gamesmanship. [xi]
In my opinion, Trump will need to cut deals if he hopes for reelection. A U.S recession in Q4 would be detrimental to the possibility of Trump being reelected. The threat of recession becomes increasingly prevalent the longer the issues of supply chain, trade, and protectionism go unresolved. Therefore, it is my view that Trump's "game of pain" will end in the next 60 days as the repercussions of his trade war become more severe.
If you have questions or comments, please let us know.  You can contact us via Twitter and Facebook, or you can e-mail Tim directly.  For additional information, please visit our website.
Tim Phillips, CEO, Phillips & Company
References:
i.     https://finance.yahoo.com/chart/SPY
ii.    https://fred.stlouisfed.org/series/VIXCLS
iii.   https://www.theguardian.com/commentisfree/2019/jun/02/trump-banning-huawei-beginning-of-biggest-trade-war-ever-united-states
iv.   https://www.engadget.com/2019/05/31/china-unreliable-entities-list/
v.    https://worldview.stratfor.com/article/china-may-be-reaching-its-rare-earths-gun-weapon-us-trade-negotiation
vi.   https://wapo.st/2ESLtRU
vii.  https://www.washingtonexaminer.com/opinion/trumps-mexico-tariffs-could-cripple-u-s-auto-industry-raise-average-price-of-cars-by-1-300
viii. https://www.ft.com/content/e77d0412-5edc-11e8-9334-2218e7146b04
ix    https://www.bloomberg.com/news/articles/2019-06-01/trump-ends-india-s-trade-designation-as-a-developing-nation
x.    http://catalyst.nationalinterest.in/2015/02/06/indias-unusual-trade-pattern-with-the-us/
xi.   https://www.usatoday.com/story/news/politics/2017/01/18/rust-belt-voters-donald-trump/96670922/
xii.   https://wedc.org/export/wisconsin-export-data/
xiii.  http://www.worldstopexports.com/michigans-top-10-exports/
xiv.  http://www.worldstopexports.com/pennsylvanias-top-10-exports/