"Waiting for the Other Shoe to Drop"
While scanning several economic indicators this week, one indicator had a small hiccup, which gave me a bit of indigestion. Auto loans appear to be increasing in delinquency. The data suggests we are seeing acceleration in delinquency rates not only from Q2 2014 to Q3 2014 of 18.4%, but also 2013 to 2014 of 13.4%.[i]

Delinquency rates have also increased across all age groups.[ii]

At the same time we are seeing a rise in loan debt per borrower along with an explosion in total outstanding credit.[iii,iv] It's clear we might be in an auto loan credit bubble.

Is it possible the persistent lack of wage growth is taking a toll on auto loans? If so, a recent report on wages was not very helpful.[v]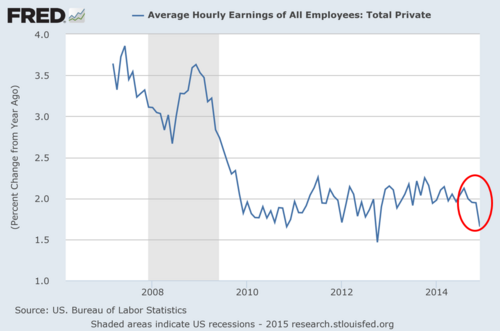 What can be particularly troubling is our recent recovery has in large part been fueled by strong auto sales. Some expect the US to top 17 million in vehicle sales in 2015.[vi]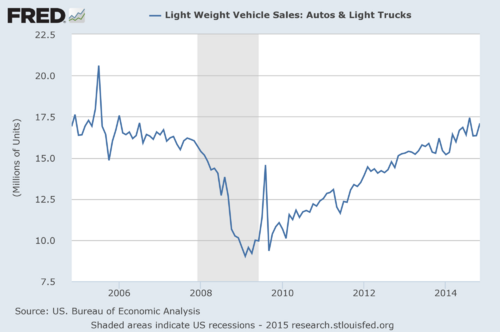 So how much is our economy dependent on autos? The automotive industry, including dealerships, accounts for approximately 3.5 percent of U.S. gross domestic product.[vii]
It's possible we may see a mini financial crisis within the auto finance industry. That's one of the reasons we review our bond managers' exposure to auto finance. If we experience a hiccup in auto sales, our economy is diversified enough to withstand it. However, we're not going to "wait for the other shoe to drop". We're limiting our exposure to auto-related credit.
Please take a look at our Quarterly Look Ahead Presentation by clicking this link.
If you have questions or comments, please let us know as we always appreciate your feedback. You can get in touch with us via Twitter, Facebook, or you can email me directly. For additional information on this, please visit our website.
Tim Phillips, CEO – Phillips & Company
Jeff Paul, Senior Investment Analyst – Phillips & Company
References
[i] TransUnion. (Nov 24, 2014). Auto Loan Delinquency Rate and Debt Rise Again.
[ii] Ibid.
[iii] TransUnion. (Q3 2014). Auto Loans.
[iv] Federal Reserve Economic Data.
[v] Ibid.
[vi] Ibid.
[vii] SelectUSA. (Retrieved on Jan 12, 2015). The Automotive Industry in the United States.