Waiting to Exhale – Quickly
Waiting to Exhale – Quickly
Last Friday's employment report provided a brief moment to exhale as it suggests the US economy may not slip into a recession during the second quarter.
US companies added 280,000 jobs during the month of May, much stronger than the anticipated 225,000 number of jobs forecast by economists.[i][ii] The trend is improving![iii]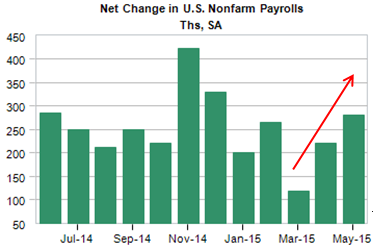 What's even better news is average hourly wage growth for the past 12 months is up 2.3%.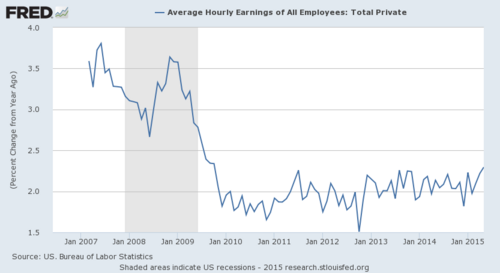 When you compare wage growth of 2.3% to very modest inflation of 1.62% over the last year you can see the consumer gaining some purchasing power. [iv][v]
In fact, as you examine the chart below you can see one of the widest expansion gaps for consumer purchasing power. Of course, much of this is due to recent declines in energy, yet some of this is also an increase in their wages.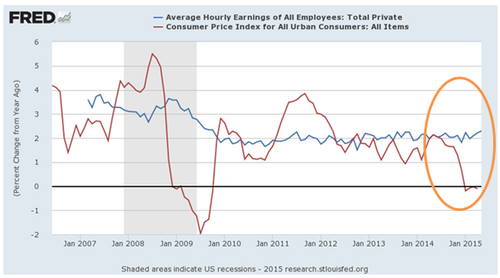 It looks like the early indicators are for Q2 GDP to be positive and avoid any recessionary trends.
None of this addresses our on-going concern over anemic corporate earnings. Q1 earnings ended the season above negative expectations, but just barely.
You can see Q2 expectations are not shaping up to be much better. With average earnings growth for S&P 500 companies around 7% since 2000, tepid growth in recent quarters is troubling.[vi]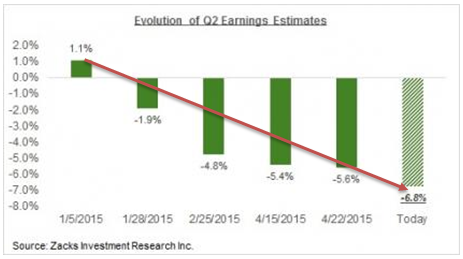 While it's nice to exhale and catch our breath with strong job, wage, and purchasing power growth, we will need corporate earnings to deliver in Q2. The recent trend in the dollar suggests we could still be facing some earnings headwinds, as we have discussed in our past post.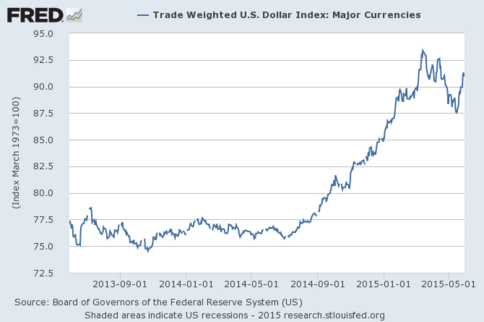 Exhale sure, but do it quickly.
If you have questions or comments, please let us know as we always appreciate your feedback. You can get in touch with us via Twitter, Facebook, or you can email me directly. For additional information on this, please visit our website.
Tim Phillips, CEO – Phillips & Company
References:
[i] Bureau of Labor Statistics (June 5, 2015). Employment Situation Summary – May 2015.
[ii] Business Insider (June 4, 2015). Deutsche Bank thinks we should be ready for an absolutely huge jobs report.
[iii] Bureau of Labor Statistics (June 5, 2015). The Employment Situation – May 2015.
[iv] Federal Reserve Economic Board.
[v] Ibid.
[vi] etfguide (August 2014). S&P 500 Earnings Growth Still Below Historical Norms.