Weekly CEO Commentary 10-1-12
The Real Meaning of Retail
Weekly CEO Commentary 10-1-12
Tim Phillips, CEO – Phillips and Company
If you look at the chart below from the Federal Reserve, the dramatic peaks in the non-seasonally adjusted retail sales (green line) paint a clear picture, 'tis the season for retail. This week we will preview how the numbers are looking.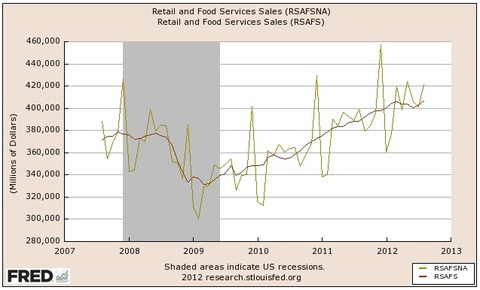 As we've discussed before, consumption represents approximately 70% of our GDP. A crucial component of this number is retail sales.
According to the US Census, retail sales were up 0.6% in July and 0.9% in August, and if you just look at the financial headlines from the last two months, the trend seems favorable. But, once you get past the headlines, some troubling trends emerge:
Looking at the big picture, retail sales are still up compared to last year. However, the rate of increase has slowed down since last July. We have seen similar slowdowns before, and unfortunately they came before the last two recessions.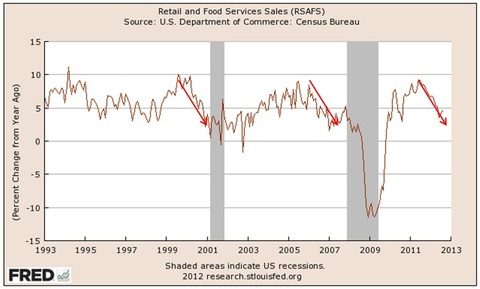 Lastly, real final sales have stalled out at 2.0%, a rate associated with prior recessions when you look at the graph below from the Federal Reserve.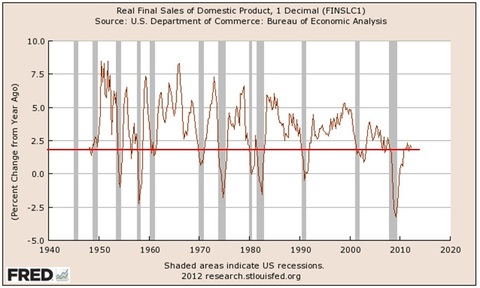 Turning to the consumer, they continue to spend down their savings leaving a little less "dry powder" to spending this retail season.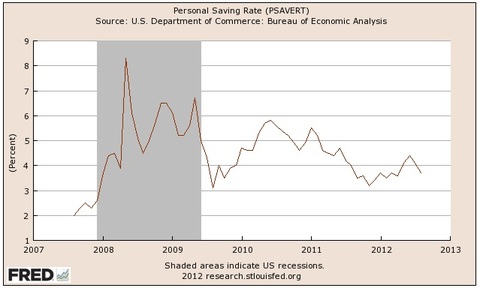 Combining this slow down with the uncertainty of an election year and a fiscal cliff, where the typical middle-income household would face a tax increase of about $2,000 according the Tax Policy Center, you can start to get a strained view of this retail season.
The very word 'retail' comes to us from the art of tailoring, where apparel is "cut off, clipped, or pared down." What's troubling me is that based on the data above, this year's retail season could be more "cut off, clipped, or pared down" than we want.
If you have questions or comments please let us know as we always appreciate your feedback. You can get in touch with us via Twitter, Facebook, or you can Email me directly.
Tim Phillips, CEO – Phillips & Company
Research supported by:
Adam Gulledge, Associate – Phillips & Company
Alex Cook, Associate – Phillips & Company