Weekly CEO Commentary 10-29-12
Managing Earnings and Expectations
Weekly CEO Commentary 10-29-12
Tim Phillips CEO, Phillips and Company
We are over two weeks into earnings season, and it looks like companies are doing two things: managing their earnings well, and also managing expectations well.
Through the end of last week, 245 companies of the S&P 500 have reported earnings, and 71% have beaten earnings estimates. According to FactSet, over the past 4 quarters, 70% of the S&P 500 companies have beaten earnings estimates, making this quarter fairly in line with prior earnings seasons.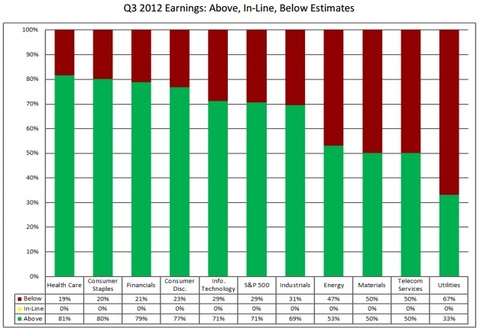 You can see from the chart below from FactSet, when it comes to setting investor expectations, only 64 companies in the S&P 500 have issued guidance for the next quarter and 48 of them have been below EPS estimates. It's clear that corporate offices are feeling nervous as they give guidance about future earnings that are much lower than expected.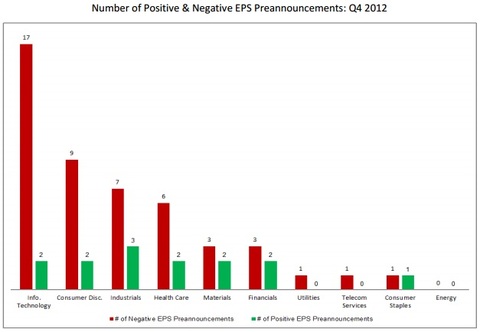 When you review a few earnings releases from some of the largest companies, they are consistently citing global growth in emerging and developed economies as a major concern.
"You know, clearly we have – we saw a softening in the consumer segments. We talked about that when we did the pre-announcement about a month ago, and the surprise there was that China, which had been very strong, turned weak on us…" –Intel (Oct. 16, FactSet)
"Service orders of $2 billion were down 1%, also driven by Europe, down 12%..." – GE (Oct. 19, FactSet)
"Sales in China remained weak in the third quarter and below the third quarter of 2011…While we have reduced production in China substantially, we have not seen an improvement in sales yet, and, as a result, the inventory reduction in China is slower than we had expected." Caterpillar (Oct. 22, FactSet)
There still appears to be a lot of uncertainty in this final quarter of the year which could lead to some turbulence in the markets:
Uncertainty about earnings
Uncertainty about Presidential election outcomes
Uncertainty about Fiscal Cliff issues
However, we have seen uncertain and turbulence times in the past. At the turn of the century you could have seen a list of worries like this:
Bombing at the BBC Television Centre March – 2001
Collapse of the dot-com bubble – March 2001
Early 2000s recession – March 2001 – November 2001
September 11 Attacks – September of 2001
Anthrax Attacks – September 2001
The Enron Scandal – October 2001
Argentina Default – December 2001
Passover Massacre in Netanya, Israel – March 2002
WorldCom Accounting Scandal – July of 2002
When you look at what the markets have done since then, you can see our economic engine continues to run.
I suspect companies are just being prudent in managing expectations for earnings, and I suspect we should be prudent in managing your expectations for returns in the short term. On the other hand, low expectations can lead to large outperformance.
If you have questions or comments please let us know as we always appreciate your feedback. You can get in touch with us via Twitter, Facebook, or you can Email me directly. For additional information on this, please visit our website.
Tim Phillips, CEO – Phillips & Company
Research supported by:
Adam Gulledge, Associate – Phillips & Company
Alex Cook, Associate – Phillips & Company