Weekly Market Commentary 7-2-12
Tim Phillips, CEO – Phillips & Company
Weekly Market Commentary 7-2-12
Last week, the news headlines were dominated by two main events. Here in the United States, the Supreme Court (SCOTUS) upheld the Patient Protection and Affordable Care Act (PPACA), informally referred to as, "Obamacare." Over in Europe, the EU Summit announced a new plan to support and recapitalize their banks, similar to the Troubled Asset Relief Program (TARP) we had at the end of 2008. We will certainly write more on these in the weeks to come.
What got very little media coverage this week was some economic data that could be instructive for us as we begin the second half of 2012. If you recall, we have been covering the ECRI's forecast for the United States to slip into a recession around July. Well…
According to the Bureau of Economic Analysis, the consumer increased their savings from 3.7% of their disposable income in April to 3.9% in May. Increases in the Personal Savings Rate usually indicate consumers are less confident about their future earnings and more uncertain about their future cash flows.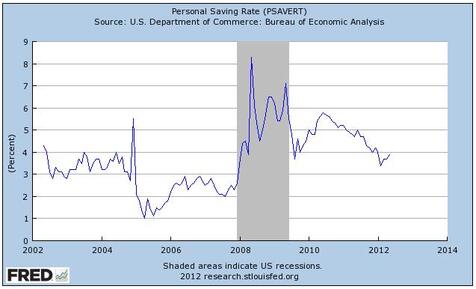 The consumer has also been spending less throughout the first half of the year. As you can see from the table below from the BEA, Personal Consumption Expenditures have been fairly flat since February. You might also remember from a few weeks ago that personal income is slowing too.

Clearly, the consumer is acting spooked. On the surface, most prognosticators will point to Europe as the main cause of this uncertainty. They may be right in their call, but only partially.
Corporations are also concerned. According to Moody's, there was a large buildup of inventories in Q4 last year and Q1 this year. Unfortunately, weak consumer spending means companies are still sitting on this inventory. Without a rapid drop in inventories in Q2, we can't expect companies to come to the rescue until Q3.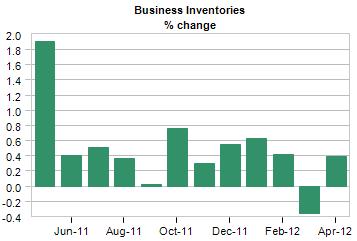 Finally, based on the numbers from BEA, we have seen a spike in corporate profits.
Following the dramatic fall off in profits during the last recession, corporate profits have sky rocketed to all-time highs. However, this growth in corporate profits might have peaked at the beginning of the year when corporate profits fell 0.3% in the first quarter according to the BEA's third first quarter estimate of GDP.
It's now or never for the ECRI's recession prediction and looking at the data right now we believe it is too close to call. Unfortunately we likely won't know if they are right or wrong until the end of the year because it takes at least two quarters to determine if we are in a recession or not.
With all this uncertainty, the good news is that the SCOTUS decision on healthcare and Europe's plan on how to recapitalize their banks creates more clarity on what global growth will look like, and less uncertainty could lead to more market rallies going forward.
If you have questions or comments please let us know as we always appreciate your feedback. You can get in touch with us via Twitter, Facebook, or you can Email me directly.
Tim Phillips, CEO – Phillips & Company
Adam Gulledge, Associate – Phillips & Company