The U.S. and World economies are suggesting more challenges are ahead as indicated by the drop in the U.S. Treasury interest rates. Investors around the globe are driving down yields on the 10-year note by buying up U.S. Treasuries. This has led to the yield decreasing 27% since the start of the year with a current yield of only 1.64%. [i]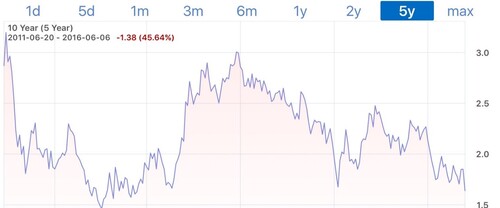 This decrease reflects the growing concern, and a flight to safety, by investors around the globe. In fact, the real yield on the 5-year treasury has been negative since March. China and Japan remain the top major foreign holders of treasury securities, while the U.K., Ireland, Luxembourg, and Cayman Islands have all seen significant increases in the volume of treasury securities being purchased. [ii]
Perhaps lower rates are a reflection of systemic lower inflation. Or perhaps it is deflationary expansion we have lived in for the last eight years. Rates and inflation have been correlated for a long time and nothing suggests this trend will change. [iii]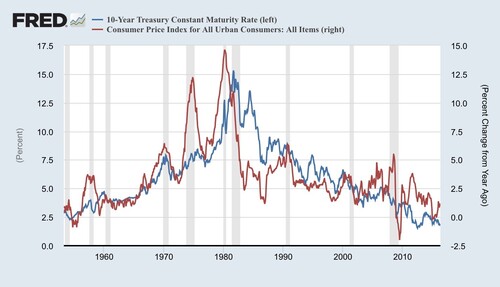 The issue as of late has been the decline in productivity, which has had a dramatic impact on inflation, and therefore U.S. Treasuries. [iv]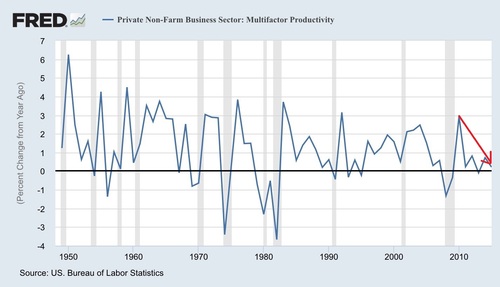 According to Moody's Analytics, "Nonfarm business productivity has averaged a paltry 1% per year since the recession, and only about half that more recently. This hasn't been much of an issue to date, as weak productivity means more jobs and getting back to full employment more quickly a critical priority. But with full employment at hand, unless productivity growth revives soon, the economy will not deliver the GDP, income, profits, tax revenue and asset returns that everyone is counting on." -Moody's Analytics [v]
However, as companies continue to spend more on labor costs, profits will be crimped possibly impacting corporate earnings.
It would appear the winner has been a restoration of the American worker. But clearly the loser has been their wages, U.S. Company earnings, treasury rates, and the battle against deflation.
As we say goodbye to one of the world's greatest winners, Muhammad Ali, the U.S. economy fights to avoid being one of the biggest losers.
Our thoughts and prayers are with every American that is outraged and grieves for those killed and injured in the latest terror attack on our soil. When terrorists succeed, we all lose.
If you have questions or comments, please let us know as we always appreciate your feedback. You can get in touch with us via Twitter, Facebook, or you can email me directly. For additional information on this, please visit our website.
Tim Phillips, CEO – Phillips & Company
Chris Porter, Senior Investment Analyst – Phillips & Company
References:
[i] https://www.treasury.gov/resource-center/data-chart-center/interest-rates/Pages/TextView.aspx?data=yieldYear&year=2016
[ii] http://ticdata.treasury.gov/Publish/mfh.txt
[iii] https://research.stlouisfed.org/fred2/graph/
[iv] https://research.stlouisfed.org/fred2/graph/
[v] www.moodys.com