2011, 2012, Now 2013?
Weekly CEO Commentary 4-15-13
Tim Phillips, CEO—Phillips & Company
Earnings season kicked off a quite start last week. We had 33 of the S&P 500 companies report earnings so far, with 69.7% of them beating expectations (source: Bloomberg). So far, this looks good; however, things really get started in earnest this week with some key companies reporting:
Tuesday, April 16: Intel, Coca-Cola, Johnson & Johnson
Wednesday, April 17: Bank of America, American Express
Thursday, April 18: IBM, Microsoft, Verizon
Friday: April 19: General Electric, McDonald's
Unfortunately for the economy, we continue to see deterioration in economic reports. As you can see from the following table, we are experiencing a rapid decline in economic indicators.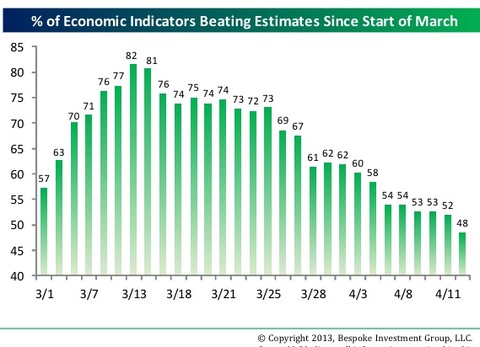 One important indicator is the Retail Sales report released last Friday. Expectations were for retail sales to be flat month over month, but actual results showed that retail sales shrunk by 0.4% from February to March. Consumers appear to be cautious.
While I expect Q1 GDP to bounce back from near recessionary levels experienced in Q4 2012, I don't expect Q2 and Q3 this year to be strong for the US economy. Much of my caution stems from the headwinds caused by the increase in payroll taxes and sequestration. One impacts the consumer (70.7% of our GDP), and the other impacts Government Spending (22.3% of our GDP).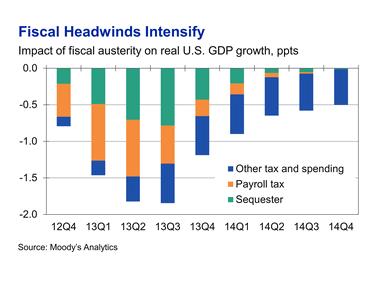 Another reason for my caution is in the large inventory buildup during Q1 2013.
While the inventory build was additive to GDP in Q1, it may not be helpful in Q2 and Q3 as consumers might be more cautious. This will cause companies to replace inventories slower, adding to more economic headwinds.
I do believe our foundational economy is stronger in 2013 than the past two years, but I also believe that we might see a repeat of market activity post Q1:

The reason I would not bet too heavy against this market is the Federal Reserve's vigilance in propping up this economy. Perhaps a cautionary pull back will be short lived and viewed as an opportunity for investors to put cash to work.
If you have questions or comments, please let us know as we always appreciate your feedback. You can get in touch with us via Twitter, Facebook, or you can email me directly. For additional information on this, please visit our website.
Tim Phillips, CEO – Phillips & Company
Alex Cook, Investment Analyst – Phillips & Company