Beating (Low) Expectations
Beating (Low) Expectations
Weekly Market Commentary 2-11-13
Tim Phillips, CEO—Phillips & Company
As we have written about previously, beyond the noise of headlines, what really drives stock prices is earnings. The S&P 500 has been approaching all-time highs, and as of last Friday, according to FactSet, 72% of S&P 500 companies reported better earnings than analyst estimates for Q4. Also, 67% of those companies had better sales than estimated.
Part of this, however, is because expectations for earnings and sales were set low to begin with. Since last summer, there have been more earnings estimates by analysts revised downward than upward.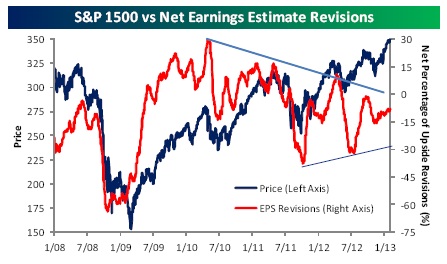 Image source: Bespoke
Companies seem to be keeping investor expectations cautious for this quarter as well. FactSet reported that "63 companies have issued negative EPS guidance for Q1 2013, while 17 companies have issued positive EPS guidance."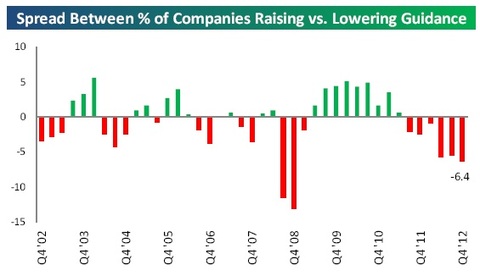 Image source: Bespoke
Cautious expectations are not without merit, as we did see negative GDP growth last quarter, and policy concerns remain.
Then again, continuing to have a low bar for expectations could set us up for another round of beating estimates for next quarter. It's worth noticing that institutional investors don't seem to be spooked by the low expectations; in fact, according to Thomson Reuters, money has been moving into equity funds at rates not seen since the year 2000. If the bar continues to be set low and if companies continue to leap over it, the market could continue to rally.
We remain with the view that the best approach is setting a long-term asset allocation, sticking with it, and tuning out some of the noise.
If you have questions or comments, please let us know as we always appreciate your feedback. You can get in touch with us via Twitter, Facebook, or you can email me directly. For additional information on this, please visit our website.
Tim Phillips, CEO – Phillips & Company
Alex Cook, Investment Analyst – Phillips & Company