Clearing Hurdles for the Consumption Economy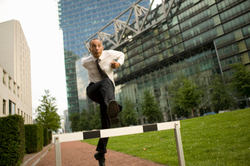 As we wrote in our September 7 blog post, Soft Patch, job growth came to a screeching halt in August. Last week's GDP report showed the U.S. economy slow dramatically in Q3. It was going to take some lifting of wages and jobs to get us over the economic hurdles of the last few months.
Fortunately, the October jobs report gave a clear indication that we have cleared a crucial low point. The U.S. economy added 531,000 jobs during October, a dramatic improvement from the anemic 312,000 jobs added in September. [i] (Note: The September jobs numbers was revised up from 194,000 to 312,000 jobs gained.)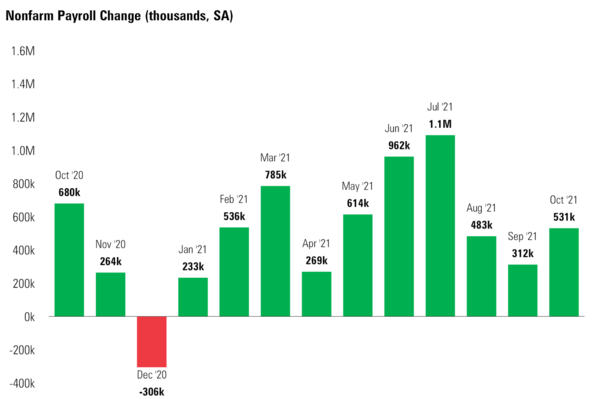 Measuring from pre-pandemic to current, we are back to making great progress in the recovery. However, we are still 4.2 million jobs below peak employment and 6 million jobs below pre-pandemic projections. [ii]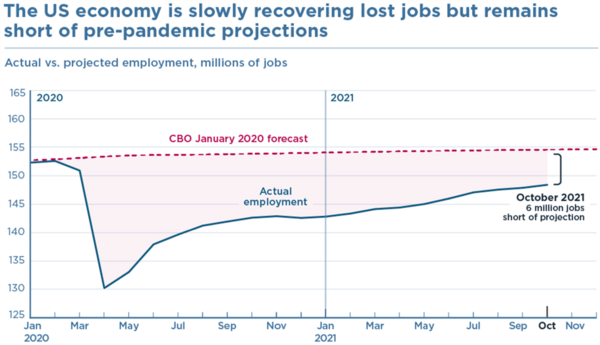 The unemployment rate declined close to levels not seen since February 2020 but, that headline is very misleading because actual jobs are what we should be tracking. [i]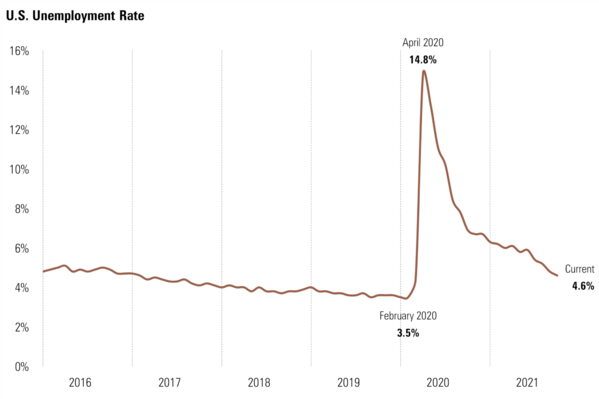 Another piece of incredibly good news is the jump in the prime-age workforce to population ratio. Workers between the age of 25-54 jumped to 78.3% in October, not far off the 80% standard. [iii]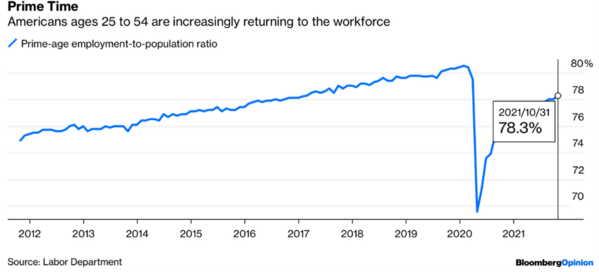 This has been an area of great concern driven by so much unemployment support over the course of the pandemic. As that support diminishes, we are clearly seeing a return to work. [iv]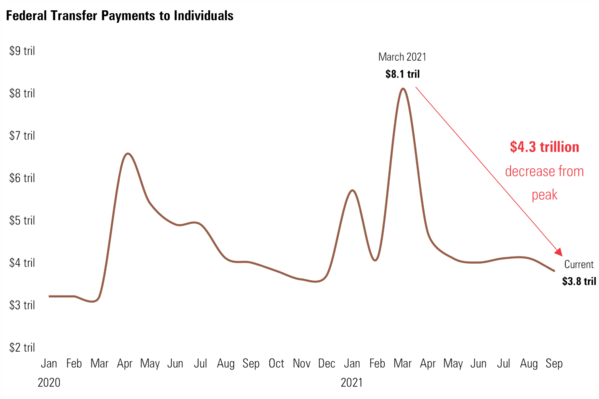 If you break down the jobs numbers, we are seeing continued progress in key industries. Manufacturing, leisure/hospitality, and professional services are all key areas we needed immediate employment support—another hurdle potentially cleared. [i]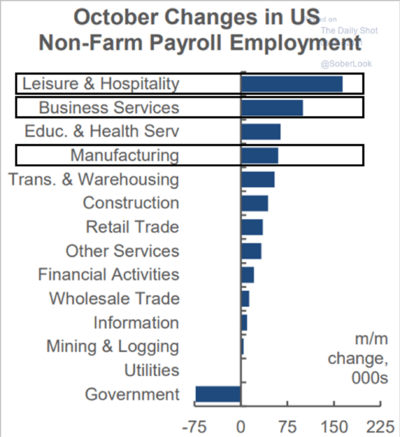 When we look at wages, we are also seeing great improvement. Remarkably, average hourly earnings are up 4.9% on a year-over-year basis. [i]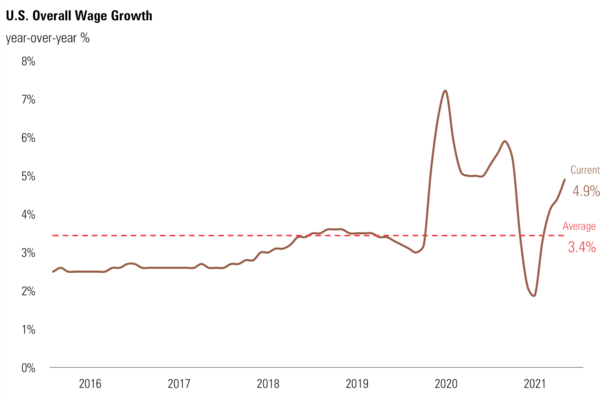 Let me assure you increasing wages (especially on the low-end service sector jobs) has been a trend goal for the Federal Reserve. With the help of the pandemic, that's one more hurdle cleared. [i]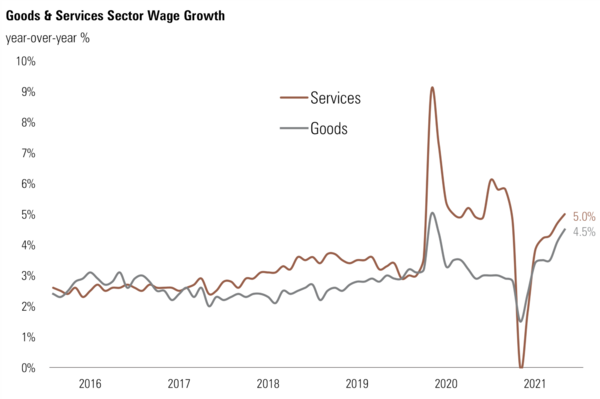 While inflation is still a major concern, our view is that any wage inflation spiral is far from certain. At this stage, wages are mostly keeping up with headline price increases.
The latest hurdle cleared is the Federal Reserve's desire to begin tapering without disruption to interest rates. Chair Powell was clear that tapering did not mean raising rates. [iv]
"We don't think it's time yet to raise interest rates," Powell said. "There is still ground to cover" before the Fed reaches its economic goals. He added he wants to see the labor market "heal further, and we have very good reasons to think that will happen as the delta variant declines, which it's doing now."
So many traders, issuers, and investors expected an immediate rise in long-term rates. To the contrary, rates did not rise—they dropped. [vi]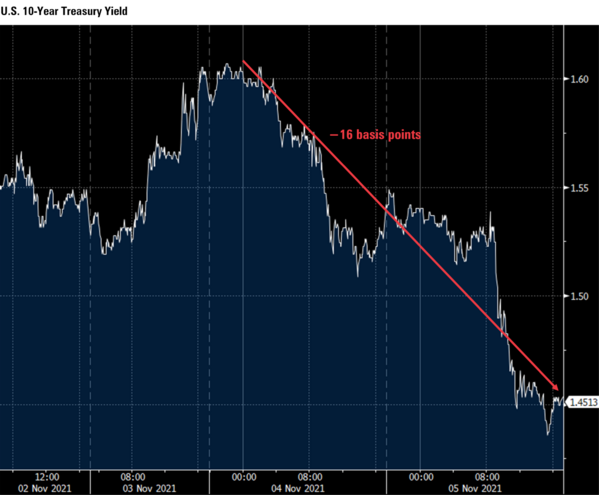 The Upcoming Hurdle
The market implications of rising rates are clearly on the horizon. To that end, the S&P 500 has performed just fine. [vii]
With jobs being added back at a rapid pace, wages improving, and a normalization process beginning at the Fed, the return-to-normal economy is starting to clear critical hurdles. The consumption economy is not in any significant jeopardy at this time.
If you have questions or comments, please let us know. You can contact us via Twitter and Facebook, or you can e-mail Tim directly. For additional information, please visit our website.
Tim Phillips, CEO, Phillips & Company
Sources:
i. https://www.bls.gov/news.release/empsit.nr0.htm
ii. https://www.piie.com/blogs/realtime-economic-issues-watch/us-makes-solid-job-gains-october-millions-are-still-sidelines
iii. https://www.bloomberg.com/opinion/articles/2021-11-05/jobs-report-backs-powell-s-hint-about-maximum-employment
iv. https://www.bea.gov/data/income-saving/disposable-personal-income
v. https://www.federalreserve.gov/newsevents/pressreleases/monetary20211103a.htm
vi. https://www.bloomberg.com/markets/rates-bonds/government-bonds/us
vii. https://dailyshotbrief.com/