Fear is a pervasive feeling that consumes our minds these days. It's no wonder that we are experiencing fear:
If you don't feel even a twinge of fear, you must be living in a bubble. Fortunately, our economic engine is powered by the incredibly resilient American Consumer.
"History doesn't repeat itself, but it often rhymes." – Mark Twain
I often think about this quote and reflect on the why. As much as things are different and so unprecedented from our past, why would things not turn out okay? The only constant over the ages is that we are still human. We have hopes, fears, flaws, and aspirations. We want to live and grow and that always leads us back to our basic animal spirits to have a better life. That "animal spirit"—as famed economist John Maynard Keynes opined—is what fuels our economy and always has.
So, as we wait for the economy to thaw after a forced-freeze, let's see if we show any signs of consuming again.
Apple has decided to share data on their map feature and it shows more people making requests for directions: [vi]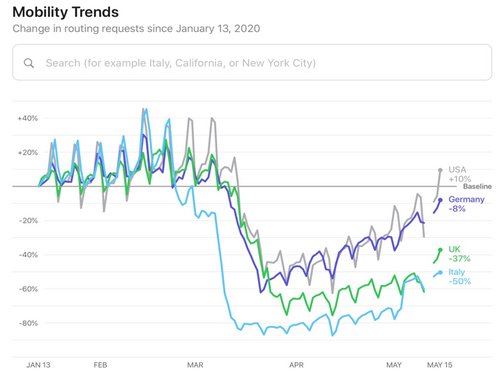 Google has shared similar data but, identifies where people are traveling based upon the depth of their location data. Again, we are seeing improving numbers: [vii]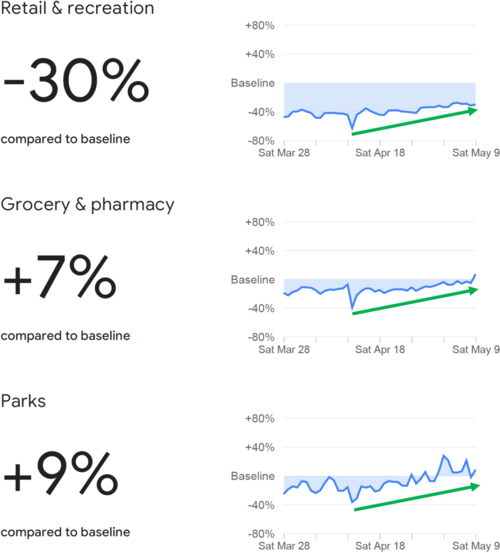 OpenTable, the premier online restaurant-reservation service company, is showing the consumer coming out of their slumber. While the number of seated diners remains at extremes, it is lifting off the bottom: [viii]

Starbucks has reported an increase in their app downloads off the March lows: [ix]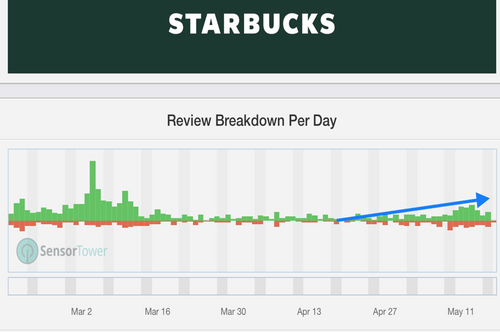 Paltry as they may be, movie theaters (those that are open) are showing an uptick in revenue. No doubt there is a long way to go, yet the green shoots are sprouting: [x]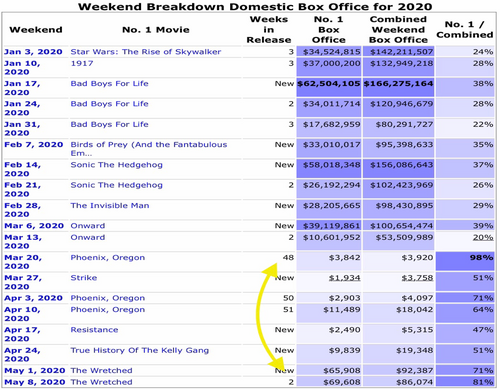 Let's keep digging for data: Information collected from golfers (that's right, golfers) suggests they are growing less anxious about the virus' impact on their lives and are expecting to return to a financial normal. Golfers are a relevant demographic as the data suggests that 83% own stocks and 86% own insurance products. [xi]

According to Redfin, a leading online realtor and real estate database, homebuyer demand has returned to pre-COVID 19 levels. This is critical data as we consider the ability of the consumer to return to normal. [xii]
One of the most astonishing consumer behaviors in the current environment is sports betting. With the entire sports ecosystem shutdown gamblers are still wagering bets, as shown in the latest revenue growth data from DraftKings (a leading online gambling site). DraftKings recently launched betting on table tennis, Korean baseball, and eNascar. [xiii]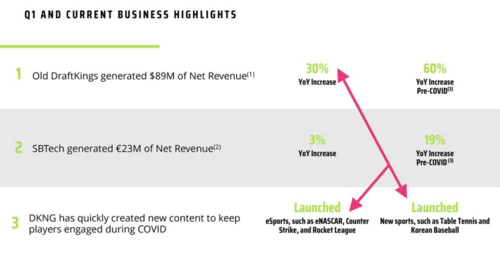 Visits to retailers and hospitals are also bouncing "off the bottom": [xiv]

All of this data is nascent, making it hard to pinpoint where and when it will normalize. However, the excess doom and gloom we hear from the media may be overplayed; big surprise there. Fear draws eyeballs and drives clicks on ads.
As we have written in earlier posts, consumer sentiment improves rather quickly and that "animal spirit" returns quicker than many would expect after a nonfinancial crisis. [xv]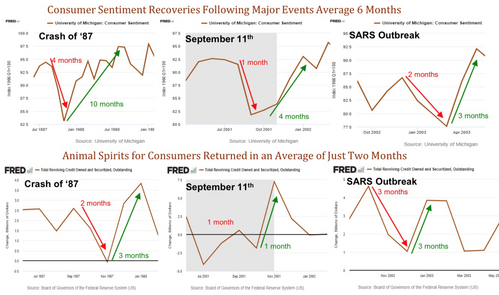 I do not have a crystal ball nor would I dare minimize the enormous financial impact this pandemic has had. I do have a tremendous amount of confidence in the U.S. Consumer and their ability to let hope, not fear, drive them to adapt and return to consumption.
"In the long run, and even in the medium run, you wouldn't want to bet against the American economy, this economy will recover." – Jerome Powell, Chair of the Federal Reserve (60 Minutes, 5/17/20) [xvi]
To that end, I recommend investors stick to their long-term financial plan, making sure their spending is consistent with that plan and their liquidity needs support their plan while also rebalancing regularly.
Fear is not a strategic objective—neither is hope for that matter—however, discipline is and in these times it's the highest priority I can think of.
If you have questions or comments, please let us know. You can contact us via Twitter and Facebook, or you can e-mail Tim directly. For additional information, please visit our website.
Tim Phillips, CEO, Phillips & Company
Sources:
i.       https://fred.stlouisfed.org/series/UNRATE
ii.      https://fred.stlouisfed.org/series/U6RATE
iii.     https://www.fns.usda.gov/pd/supplemental-nutrition-assistance-program-snap
iv.      https://fred.stlouisfed.org/series/RSAFS
v.       https://www.nbcnews.com/health/health-news/live-blog/2020-05-18-coronavirus-news-n1209066
vi.     https://www.apple.com/covid19/mobility
vii.    https://www.google.com/covid19/mobility/
viii.   https://www.opentable.com/state-of-industry
ix.      https://sensortower.com/ios/us/starbucks-coffee-company/app/starbucks/331177714/overview
x.       https://www.the-numbers.com/market/2020/summary
xi.      https://www.benchcraftcompany.com/demographics/
xii.     https://www.redfin.com/blog/homebuying-demand-passes-prepandemic-levels/
xiii.    https://draftkings.gcs-web.com/static-files/91d0fc83-2d23-460d-ba95-6ac832dfa145
xiv.     https://www.unacast.com/industries/retail
xv.      https://phillipsandco.com/files/2415/8584/3131/Look_Ahead_-_2020Q2_-_Final.pdf
xvi.    https://www.cbsnews.com/news/coronavirus-economy-jerome-powell-federal-reserve-chairman-60-minutes/