The Consumer Did Its Job
Weekly CEO Commentary 4-29-13
Tim Phillips, CEO—Phillips & Company
The much anticipated report card on the US economy was released last week and I would grade it a C overall. The US economy grew at an annualized pace of 2.5%.
The consumer represented almost 90% of the growth in GDP. They deserve an A+. Business did its share, making up much of the rest of the growth through expanding inventories. Not surprising, government and net exports continued to represent a drag on the overall economy.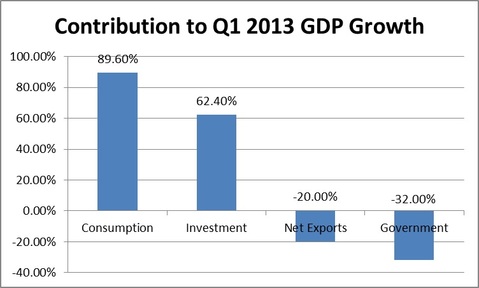 Source: Bureau of Economic Analysis
What We Know
Unfortunately, we know the consumer can't continue to represent this much a share of our national output. Some kind of reversion to the mean is in store. Much of consumer spending came from savings. The US Savings rate dropped to 2.6%, which is the lowest level since 2007.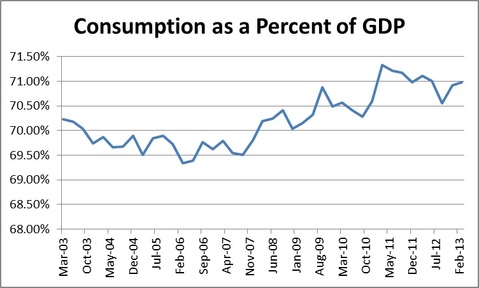 Source: Bureau of Economic Analysis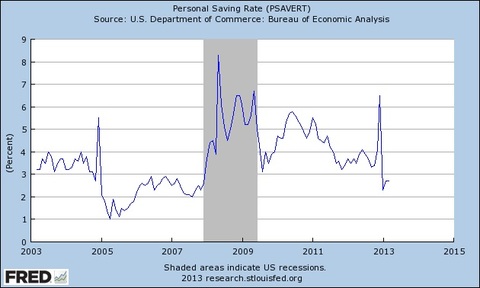 We also know from earlier posts that businesses will find it harder to add to inventories as they are already at relatively high levels.
We certainly know there is significant fiscal drag in our economy. Driven by tax increases and sequestration induced government spending cuts, we can see a drag of as much of 1.8% on GDP in the coming quarters.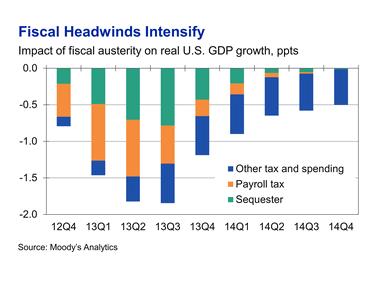 So, what's left to keep the economy and markets going in the coming quarters before we get released from much of the fiscal drag in 2014?
Consumer credit is showing some signs of strength. If the consumer can't spend their savings it looks like they are still willing to go to the credit card.
They are also making a little more money as personal disposable income recovered from a large drop in January.
The markets will soon start to anticipate better times ahead in 2014. From my experience it could be as early as 6 months ahead or as late as several months. It appears that investors have significantly more "present bias" and that could mean a sluggish summer before market participants look forward to 2014. I also give my usual caution on accuracy and specificity on forecasts.
The summary of all this data looks as follows:
Companies will want to shrink inventory before they rebuild delaying any significant movement in employment.
Consumers will need to reload savings but can certainly continue to sustain a slightly elevated level of spending from a slight rebound in incomes, access to credit and a recovery in housing.
Fiscal headwinds will continue throughout the rest of 2013.
Market participants will look for sunnier times in 2014 so pull backs can be viewed as a normal reaction to an almost normal business cycle.
If you have questions or comments, please let us know as we always appreciate your feedback. You can get in touch with us via Twitter, Facebook, or you can email me directly. For additional information on this, please visit our website.
Tim Phillips, CEO – Phillips & Company
Alex Cook, Investment Analyst – Phillips & Company