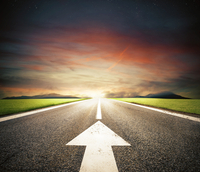 It's going to be a heavy week of American politics that will certainly have some impact on our equity markets. We previewed some of that volatility last week when U.S. equities sold off dramatically only to rally back. [i]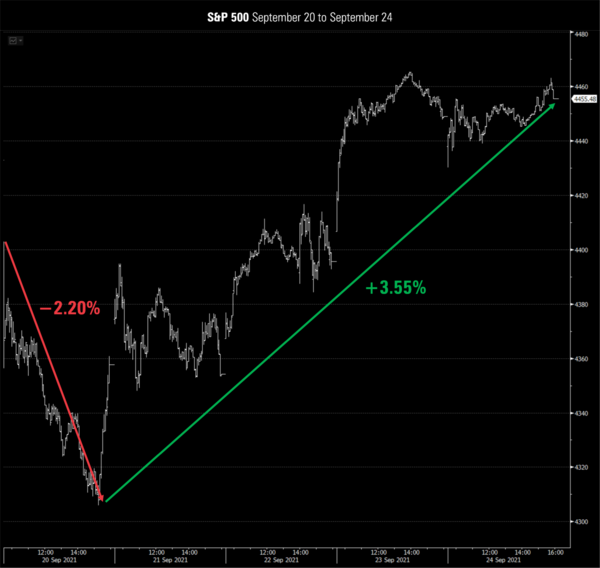 Some of that sell off early in the week was caused by one of China's largest property developers, Evergrande, struggling to make interest payments on outstanding debt. Some in the American media equated this potential default as China's "Lehman Brothers" moment; perhaps portending a credit crisis in China. [ii]

However, that hype was quickly dispelled when the company made interest payments to their domestic bondholders.
The real takeaway is investors are on edge with so much uncertainty on the immediate horizon as the economic path forward is fraught with challenges.
The upcoming debt expansion, which we discussed in last week's blog, is just one of these challenges.
Persistent inflation running above the Federal Reserve target of 2% is another. [iii]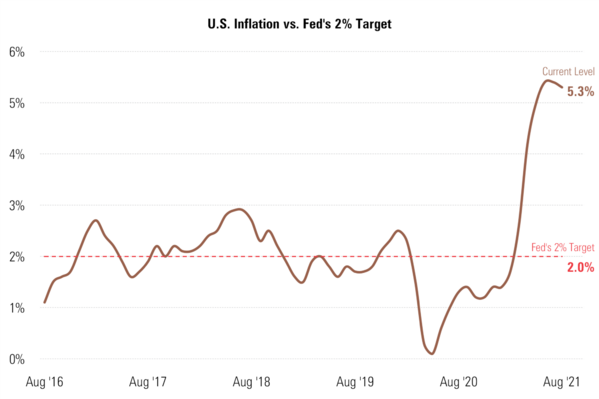 Inflation in the service sector is running hot. [iv]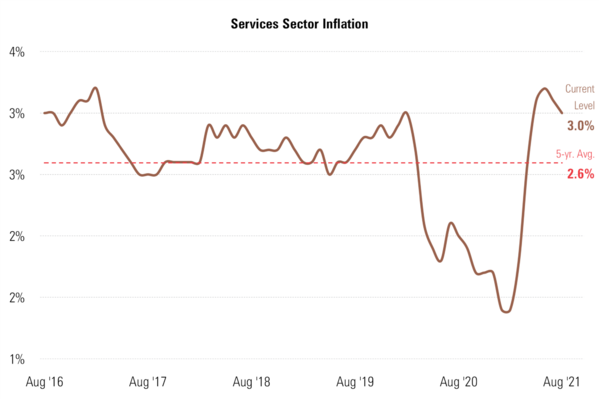 As for goods producers, their supply chains continue to be constrained. The backlog in the Port of Los Angeles is at record levels. In fact, most of the largest U.S. ports are experiencing record delays. [v] [vi]

Rising wages are inducing idle workers back to jobs. [vii]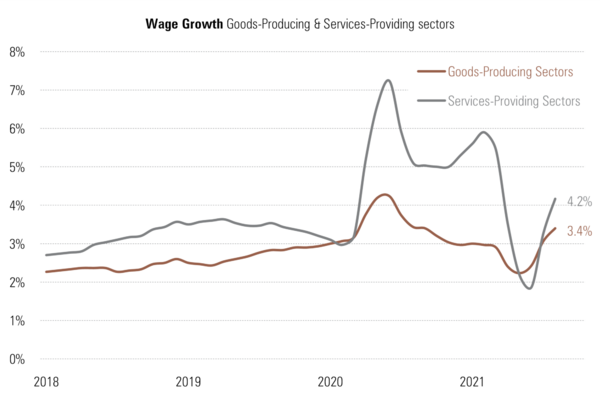 Service workers are benefiting the most from rising wages and, if you recall, they were the most historically underpaid. The Fed wanted to support higher wages for people of color, and it looks like that is being accomplished. [viii]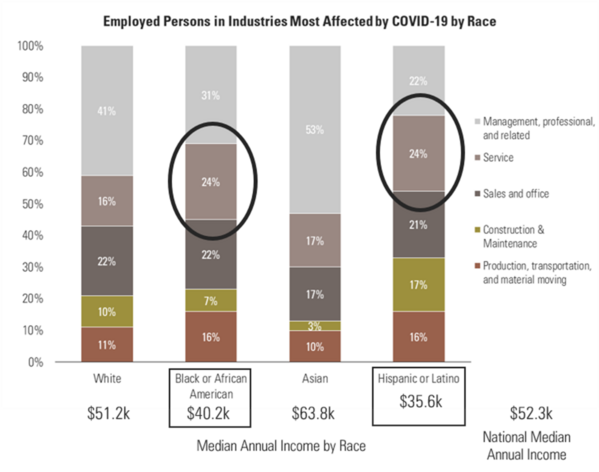 While this will cost consumers more, workers will also be making more.
Higher wages will pull more workers off the sideline and fill the unemployment gap. [ix]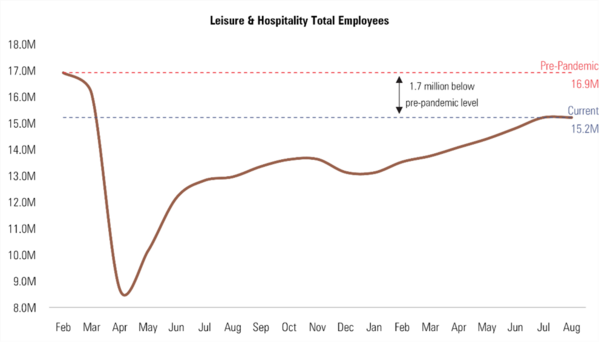 The other difficulty for the path forward is corporate earnings. Earnings expectations for Q3 are remarkable. [x]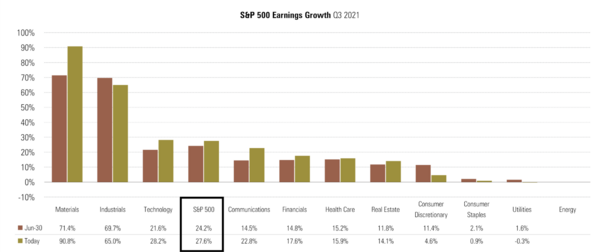 However, investors have to wonder when inflationary pressures will impact corporate profit margins. [x]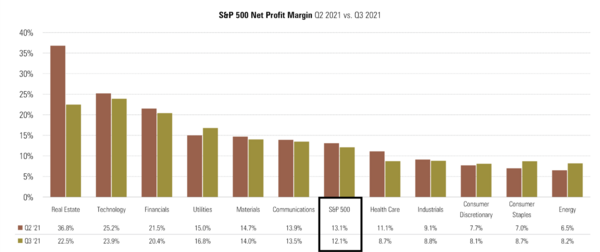 This will certainly have an impact on investor sentiment as we work our way through the sausage-making of domestic policy.
Here's the saving grace: There is so much cash sitting on the sidelines, investors are quick to jump in when small valuation adjustments occur. [xi] [xii]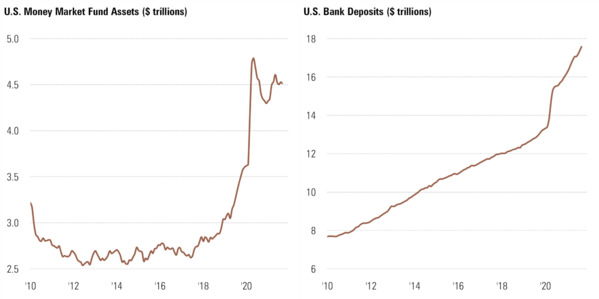 Just look at last week's market action. When equity prices fell, valuations went from 21.37x to 21.05x on a forward P/E basis. It's hardly anything to jump on. [xiii]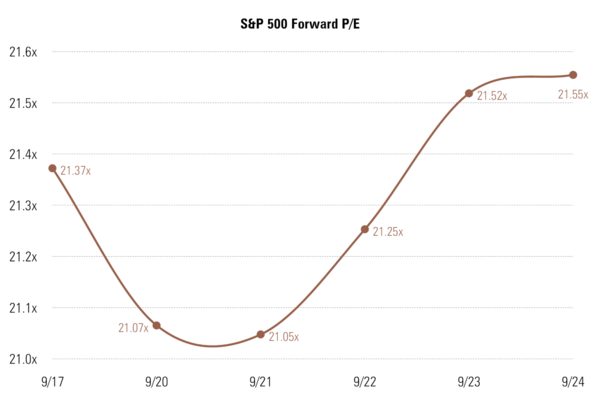 However, investors have little in the way of areas to invest. Almost everything is overvalued with the exception of China. [xiv]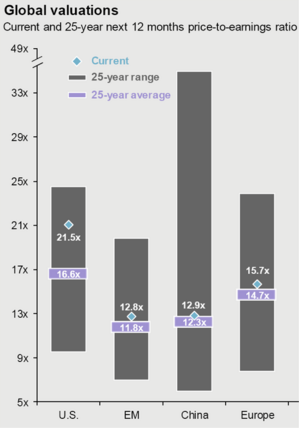 The path forward will require all of us to stomach some volatile times ahead. That being said, valuation compression might just be very short-lived.
If you have questions or comments, please let us know. You can contact us via Twitter and Facebook, or you can e-mail Tim directly. For additional information, please visit our website.
Tim Phillips, CEO, Phillips & Company
Sources:
i. https://www.bloomberg.com/quote/SPX:IND
ii. https://www.bloomberg.com/news/articles/2021-09-01/evergrande-s-falling-debt-masks-dues-swelling-over-300-billion
iii. https://fred.stlouisfed.org/graph/?g=H7Um
iv. https://fred.stlouisfed.org/graph/?g=H7UR
v. https://www.theguardian.com/us-news/2021/sep/22/cargo-ships-traffic-jam-los-angeles-california
vi. https://www.bloomberg.com/news/articles/2021-09-10/port-congestion-index-shows-u-s-import-rush-clogging-trade-hubs
vii. https://www.bls.gov/news.release/empsit.t19.htm
viii. https://phillipsandco.com/files/4216/1728/9457/Quarterly_Look_Ahead_-_Q2_2021_-_Final.pdf
ix. https://www.bls.gov/news.release/empsit.nr0.htm
x. https://insight.factset.com/where-are-analysts-most-optimistic-on-ratings-for-sp-500-companies-heading-into-q4-2021
xi. https://www.ici.org/research/stats/mmf
xii. https://www.federalreserve.gov/releases/h8/current/default.htm
xiii. https://ycharts.com/indicators/sp_500_pe_ratio_forward_estimate
xiv. https://am.jpmorgan.com/us/en/asset-management/adv/insights/market-insights/guide-to-the-markets/