The Sidelines: It's the Investor's turn to sit on cash
The Sidelines: It's the Investor's turn to sit on cash
Weekly CEO Commentary 7-29-2013
Tim Phillips, CEO—Phillips & Company
Fixed income investments have become increasingly difficult to implement, manage and maintain. Since Fed Chair Bernanke began his "thinking out loud" on May 22 about the end of QE3, we have seen a wild ride for fixed income investments.[i]

You can see we have seen some pretty nervous times in an asset class most expect to be safe, stable and anything but risky (volatile).
Investors, including many professionals, have been caught by surprise by how much actual risk is exhibited in a host of fixed income assets—so much so, that they have been withdrawing their money from the investments.
In fact, outflows in June from fixed income mutual funds are the largest amount on record with $43 billion coming out of taxable bond funds.[ii]
But, if you look at our earlier chart, you can see that fixed income started to recover in July. Once again, the emotional investor likely withdrew at the exact wrong time and didn't participate in the small recovery.
While some money has flowed into equities, even more has simply moved into cash.[iii]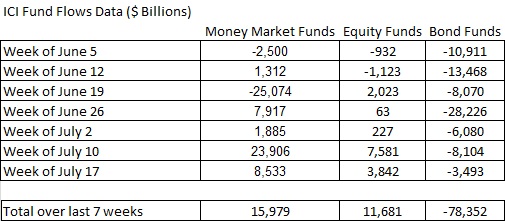 One highly likely outcome is this money might just sit on the sidelines for a period of time. It's hard for investors to switch fixed income assets to equity assets based upon the risks associated with equity investing. It's also not that easy to adjust investment policies that quickly for institutions and well run allocations. Asset allocations will likely embrace more cash while waiting for a return to historic fixed income yields.[iv]

My guess is this money might just sit on the sidelines. We know corporations, both here and in Japan (see last week's article), as well as banks have been sitting on cash. Now it's the investor's turn to do the same. It will be important to watch what happens, as the $2.62 trillion[v] of investor assets currently in money market funds is no small matter.
To see our full Q3 Look Ahead, please click here for the PDF.
If you have questions or comments, please let us know as we always appreciate your feedback. You can get in touch with us via Twitter, Facebook, or you can email me directly. For additional information on this, please visit our website.
Tim Phillips, CEO – Phillips & Company
Alex Cook, Investment Analyst – Phillips & Company
---
[i] Chart data source: Morningstar Direct.
[ii] Source: "Bond Investors Turn to Cash", Wall Street Journal, July 25, 2013
[iii] Chart data source: "Weekly Estimated Long-Term Mutual Fund Flows", "Weekly Money Market Fund Assets", Investment Company Institute. Bond fund statistics include both taxable and non-taxable bond funds.
[iv] Chart data source: Federal Reserve.
[v] Source: "Money Market Mutual Fund Assets", Investment Company Institute