With 2016 nearing a close and the Dow Jones Industrial Average approaching an all-time high of 20,000[i], it's easy to forget what an emotional rollercoaster this year was.  Let's look back at the major events of 2016:
January: Worst 5-day performance to start the New Year in the history of the U.S. stock market (S&P 500 declined 5.98%). [ii]
June: BREXIT – Great Britain voted to leave the European Union, rippling markets in the U.S. and sending them briefly back into negative territory for the year. Peak to trough, the S&P 500 sold off 6% during the month but, quickly recaptured gains the following month. [i]
November: Surprise outcome of the Presidential Election sent stocks to an all-time high, even despite analyst's predictions of a pull back on a Trump victory. [iii]
December: A 25 bps increase to the Fed Funds Rate continued to hammer the price of bonds, following the Presidential Election. [iv]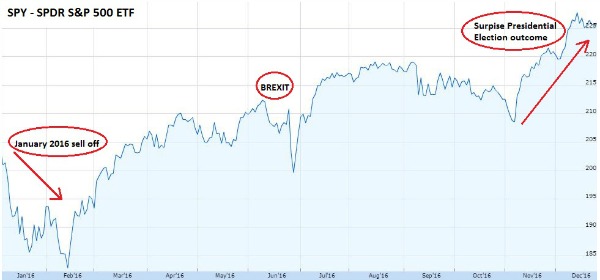 Yet currently, all the major indices sit around their all-time highs [i].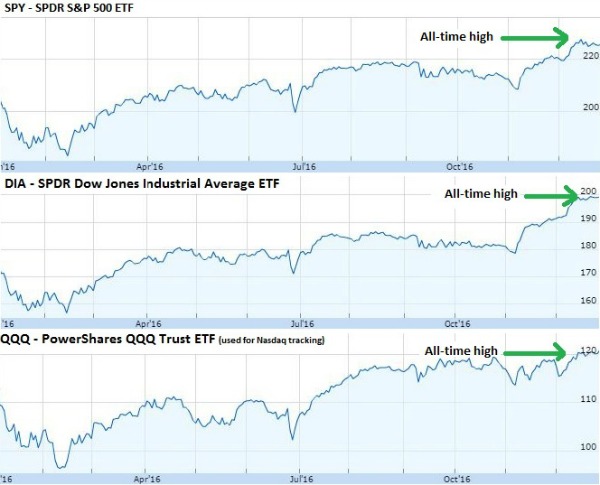 So, what's in store for us going forward? Are we going to have another rough January?  Will there be continued BREXIT fallout sending ripples through U.S. stocks?  Will the bull market continue as Trump officially steps into the Oval Office?  Will 2017 be another one-and-done for the Fed to raise rates again?
Stay tuned; we'll be releasing our Q1 2017 Look Ahead in which we will lay out our case for the coming quarter and year.  
In the meantime, you can check out our Q1 2016 Look Ahead to see how we did.
From all of us here at Phillips & Company, we wish you a happy, healthy, and prosperous 2017.
If you have questions or comments, please let us know as we always appreciate your feedback. You can get in touch with us via Twitter, Facebook, or you can email me directly. For additional information on this, please visit our website.
Tim Phillips, CEO – Phillips & Company
Robert Dinelli, Investment Analyst – Phillips & Company
References:
[i]     Bloomberg, LP
[ii]   https://phillipsandco.com/blog/looking-ahead/
[iii] https://phillipsandco.com/blog/the-trump-global-demise-rally/
[iv] https://www.federalreserve.gov/newsevents/press/monetary/20161214a.htm