Now that the Presidential election has come to a close, we've experienced nothing short of an unforeseen rally in the equity markets. The recently dubbed "Trump Equity Rally" has ended its third week with another string of strong performances across several key sectors [i].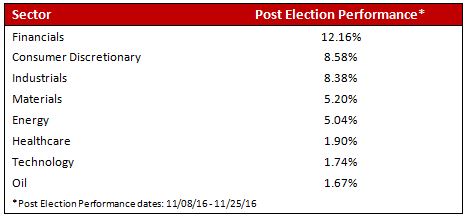 Post Trump's Presidential victory, many of the sectors that saw big gains in the first half of 2016 have posted quite the losing streak [i].

The most noticeable would be the collapse in fixed income rates [ii].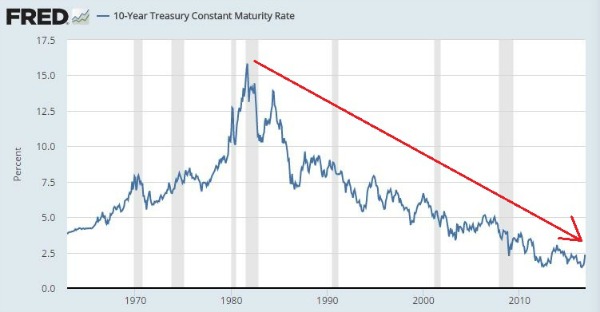 It should come as no surprise that for nearly the past three decades, we have been on a long secular bond market rally.  Bond prices, which move inversely in relation to rates, have increased over 1,521%[i] since rates peaked at 15.41% in September of 1981 [ii].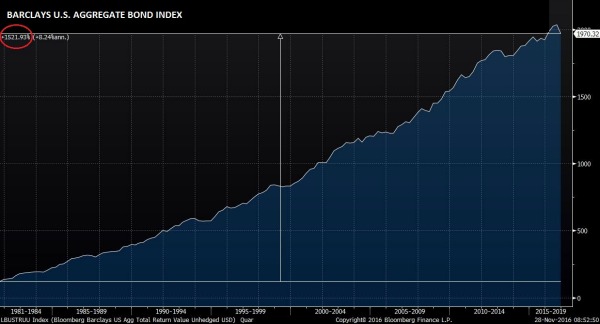 The seminal question that I find myself asking more frequently is, "Does a Trump Presidency signify the end of the 30-year bond rally?"  I hate to break it to you, but the simple answer is that we don't know!
The more pointed question we should be asking is, "Does the Trump rally represent something greater than money chasing the future of better tax rates?" After all, in my opinion, Trump is offering up some pretty favorable incentives for investors and corporations [iii].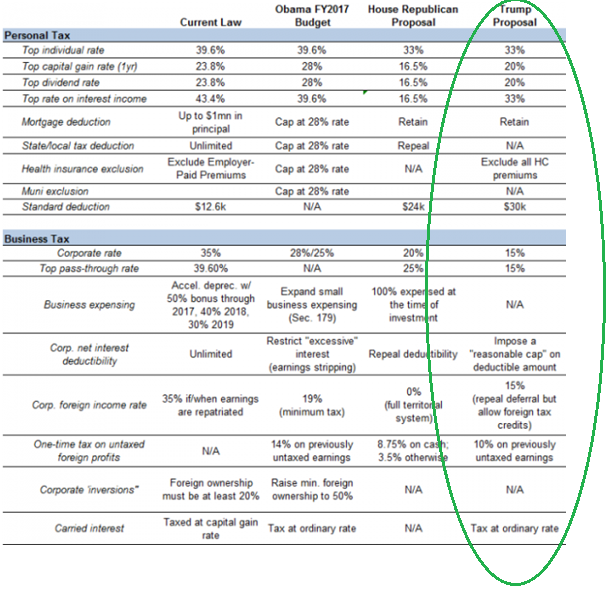 If corporate tax rates are cut from their current levels of 35% down to 15% [iii], and personal tax rates also see a cut from their current levels of 39.6% down to 33% [iii], earnings growth will likely be that much easier to achieve. Why?  It's a little complicated, but at the end of the day, the return that investors once demanded in order to own stocks will be lowered due to having to pay less in taxes. Similarly, corporations would have a lower cost of capital, driven by the ability to pay out less in cash flows to tax and investors, which will leave more to invest in future growth.
However, I am not convinced Trump's tax proposal is what's driving the current rally.  In the past, we have seen large outflows from equities into bonds, according to the Investment Company Institute [vii].  However, I believe there may be a cyclical move away from fixed income that may well last a few years.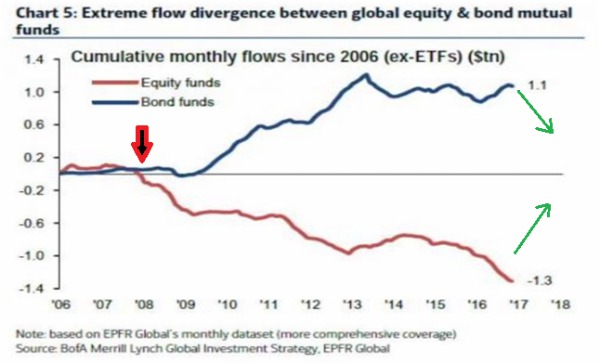 Those funds flowing out of fixed income will have to flow somewhere.  The logical place would be for them to flow into U.S. equities.  In fact, as of recently, we've already begun to see this ensue [iv].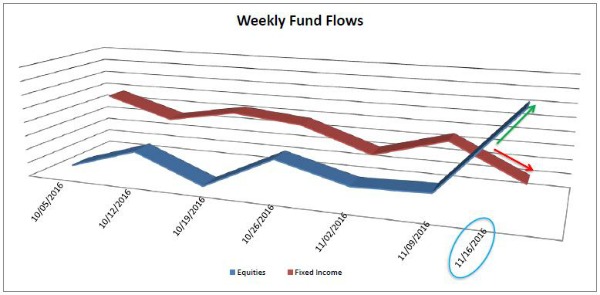 In reality, if you look at a reasonable amount of flow coming into U.S. equities from fixed income, we could see a significant, and likely, prolonged rally.
Continuing with the sense of this cyclical move away from fixed income and into stocks, as we've discussed in several of our previous commentaries (Dependency / Trump Tantrum), one could make the argument that we might just be leaving a "Policy Driven World" by the Fed and becoming more dependent on fiscal policy, such as tax cuts, infrastructure spending, and defense spending.
Additionally, we're also continuing to see a much-anticipated recovery in corporate earnings growth [v].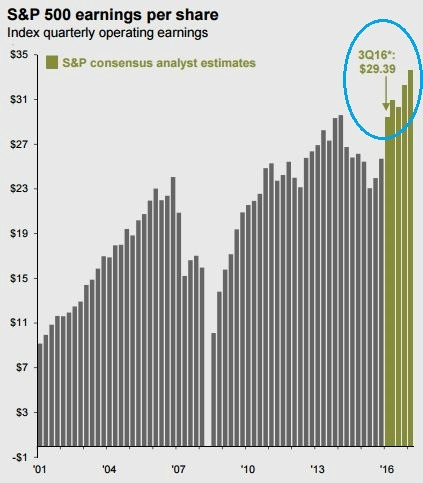 Lastly, we are now seeing a clearer trajectory of where the Fed will take rates in 2017 and beyond [vi].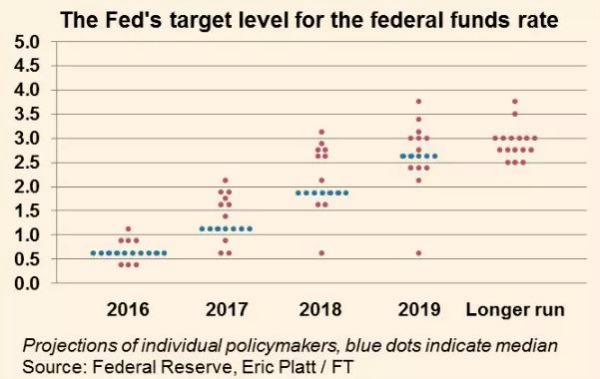 Let's not mistake this rally as purely a play on tax; it's clear that it could be much more than that.  If it is a rotation out of bonds and into stocks, this rotation could last quite some time.  While I don't expect a straightforward move, an extended upward trend in 2017 would be likely.
If you have questions or comments, please let us know as we always appreciate your feedback. You can get in touch with us via Twitter, Facebook, or you can email me directly. For additional information on this, please visit our website.
Tim Phillips, CEO – Phillips & Company
Robert Dinelli, Investment Analyst – Phillips & Company
                References:
[i]     Bloomberg, LP
[ii]    https://fred.stlouisfed.org/series/DGS10
[iii]   http://www.zerohedge.com/news/2016-11-11/what-donald-trumps-proposed-tax-cut-means-you
[iv]   https://phillipsandco.com/files/6414/8036/4829/combined_flows_data_2016.pdf
[v]    https://phillipsandco.com/files/9514/8036/4823/MI-GTM_4Q16_November.pdf
[vi]   https://www.ft.com/content/cb0f4316-8022-11e6-8e50-8ec15fb462f4
[vii]  https://www.ici.org/info/combined_flows_data_2016.xls